CMT ARTISTS OF THE YEAR: Lainey Wilson Honored As Breakout Artist of the Year
2022 CMT ARTISTS OF THE YEAR will debut 9p/8c Friday, October 14, on CMT.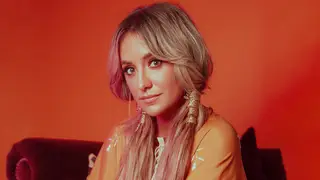 Lainey Wilson keeps collecting accolades. On the heels of her multi-week No. 1 hit with Cole Swindell "Never Say Never," her addition to the cast of "Yellowstone" and the impending release of her sophomore album "Bell Bottom Country" on Oct. 28, CMT is honoring Wilson as its Breakout Artist of the Year at the 2022 CMT ARTISTS OF THE YEAR event.
2022 CMT ARTISTS OF THE YEAR will debut 9p/8c Friday, October 14, on CMT. Previous Breakout Artist of the Year honorees include Mickey Guyton (2021), Ashley McBryde (2019), Kelsea Ballerini (2016), and Chris Stapleton (2015).
"This past year has been a wild ride," Wilson said in a statement. "To be considered for this award reinforces that the years of hard work my team and I have put in was all worth it. The team at CMT feels like family, and the way they genuinely support artists on their platform is so special and important for dreamers like me."
Leslie Fram, SVP, Music & Talent, CMT, said Wilson was unquestionably the network's only choice this year.
"Not only is she a powerhouse performer and tremendously gifted songwriter with contagious energy and drive, she is just starting to show the world her range and versatility, as evident by her upcoming role on hit series 'Yellowstone,'" Fram said. "From naming her as part of the 'Next Women of Country' franchise in 2019 to watching her shine on our CMT Music Awards stage with one of the most memorable performances this year, we couldn't be more thrilled to celebrate Lainey's much-deserved successes and cheer her on for all that's next!"
Wilson has a growing list of No. 1 hits. In addition to "Never Say Never," she also has her platinum-certified "Things A Man Oughta Know" while her two latest singles, "Heart Like a Truck" and "wait in the truck" with HARDY continue to gain popularity.
This year alone, she has racked up an impressive number of award nominations and wins, including a sweep at this year's ACM Awards with a total of three wins, including 'New Female Artist of the Year' and 'Song of the Year,' and is the leading nominee heading into this November's CMA Awards, where she is up for six nominations.
2022 "CMT ARTISTS OF THE YEAR," is executive produced by CMT's Margaret Comeaux and Switched On Entertainment's John Hamlin. The Executives in Charge of Production are Jackie Barba and Heather D. Graffagnino. Leslie Fram is Executive in Charge of Talent. Shanna Strassberg is Talent Producer.
For more information, visit CMT.com, follow @CMT on Facebook, Instagram, Twitter, YouTube and TikTok and use the hashtag #CMTAOTY.