Thomas Rhett Reflects On His 10-Year Marriage With Wife Lauren Akins
Thomas Rhett counts his blessings before his 10th anniversary with his other half.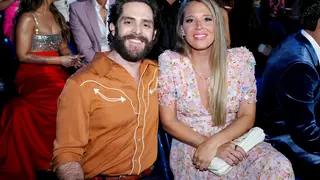 "With the whole outlook of 'Where We Started.' For me, I kinda look back to when I first started in this career, when I first got married, and just lookin' at Lauren and being like, dang," he laughed. "10 years ago, you and I were riding in a Sprinter van with eight other dudes in my band, and we were doing 300 shows a year," he added.
Akins has been Rhett's biggest cheerleader since day one. The two first met in kindergarten, but it wasn't until 2011 when they officially started dating. It only took six months for Rhett to pop the question, and they married in October of 2012 at 22 years old. Although several naysayers doubted the country couple, Rhett's father knew their strong love could bare the trials and tribulations that life may throw at them.
"Everybody told him no, this is not what he should do," the award-winning songwriter Rhett Akins previously shared with Country Weekly. "[But] when I saw them stare at each other the entire 20 minutes they were saying their vows, it's like these two people are meant to be together. They are beyond in love."
After their wedding, Akins joined her superstar husband out on the road for 285 days, where they slept in a bunk that was smaller than a twin-sized bed. As they relished in their newlywed life, they had several moments to celebrate from the positive repercussions of "Tangled Up," Rhett's 2015 album, and chart-topping hit "Die a Happy Man." They ran into trouble conceiving and decided to adopt their beautiful daughter, Willa Gray, from Uganda in 2016. While going through the rigorous adopting process, Akins found out she was pregnant with Ada James. The couple got lucky with two more girls – Lennon Love and Lillie Carolina.
During the conversation with BMLG, the platinum-selling artist took a second to reflect on his prosperous personal life and shared what he would tell the twenty-something year old that was once hungry for success.
"Looking at our life now with four children and, by the grace of God, had a little bit of success in this business, and it's kinda wild to look back and ask yourself, if I could tell my 21-year-old self, this is where you're going to be, this is crazy," he concluded.
Rhett released his sixth studio album, "Where We Started," in April and includes a handful of collaborations. Rhett joined forces on the title track starring Katy Perry, "Death Row" features Tyler Hubbard and Russell Dickerson, and his current radio single "Half Of Me" with Riley Green.
The country crooner has been promoting the critically acclaimed collection on his nationwide Bring The Bar to You Tour with Parker McCollum and Conner Smith. The must-see show is slowly coming to an end, and will wrap on Oct. 15. Tickets to the last remaining dates are available for purchase, here.