Craig Wiseman and Lori McKenna Mentor NSAI Song Contest
Registration for CMT and Martin Guitar and Strings Competition Ends Oct. 31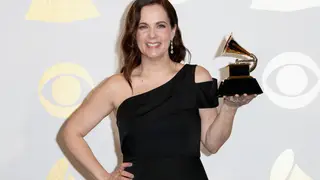 Most rising songwriters would give their "write" arms to score the once-in-a-lifetime opportunities offered through the 19th annual NSAI Song Contest presented by CMT and Martin Guitar and Strings. The time alone with mentors, Grammy winners Craig Wiseman and Lori McKenna, is worth entering.
Wiseman discovered Florida Georgia Line and helped Brian Kelley and Tyler Hubbard become the hit-making masters they are today. He also co-wrote massive hits for Kenny Chesney, Toby Keith, Tim McGraw, Brooks & Dunn, and Blake Shelton.
McKenna was one of the leading Americana and country music Grammy nominees in 2016 with her album, The Bird & the Rifle. That year, she won the best country song Grammy as the songwriter behind McGraw's "Humble and Kind." Her latest release The Tree arrived in July.
The contest is open to amateur songwriters only, and all genres of music are accepted and encouraged.
The grand prize winner will get $5,000 in U.S. cash, 60-minute mentoring sessions with McKenna and Wiseman, three meetings with music industry executives, a single-song contract with ole (song publisher for Chris Janson, Justin Moore, Michael Ray and more), a song breakdown with a pro songwriter, performance opportunities at the iconic Bluebird Café, the 2019 Tin Pan South Songwriters Festival, a new Martin guitar and more.
The entry cost is $35 per song for NSAI members and $45 per song for all non-NSAI members. CMT will be accepting entries through Oct. 31 through the contest's website.