Jelly Roll Describes Mental Health Struggle, Says Treatment Could Have Saved Him From Criminal Behavior
Jelly Roll: "If a doctor would have helped my mother with her addiction, my nickname might be Slim Totem, and I might be a doctor."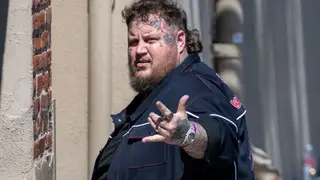 When country rocker Jelly Roll was a child, his mother struggled with addiction and mental health. He watched her as she sat at the kitchen table wearing her nightgown and listened to music. He noted how music changed the way she felt.
"If a doctor would have helped my mother with her addiction, my nickname might be Slim Totem, and I might be a doctor," Jelly Roll said on Audacy's I'm Listening.
The Nashville native recently notched his first chart-topping rock song, "Dead Man Walking," and his country single "Son of A Sinner" is working its way up the country charts. He recently played the Grand Ole Opry, and his writing that speaks to the heart of everyday people has captivated many in the country music genre. However, Jelly Roll's no-nonsense style comes from a life of struggle, with mental health being a significant barrier.
The 37 year old is one of four children. His dad was a meat salesman who booked bets on the side. By the time Jelly Roll was 14, he had started to make a series of decisions that landed him in what he calls the "revolving door of the judicial system." He spent 10 years in the system – eight of them incarcerated off and on.
He said his Damascus Road experience came on May 8, 2008, when a guard knocked on his cell door and told him his daughter had been born that morning.
"She's now 14, and I knew I had to change my life," Jelly Roll said. "I started selling CDs out of the trunk of my car and t-shirts and throwing local concerts and doing anything I could to not revert back to a life of crime to provide for her."
Jelly Roll and his wife have had custody of his daughter for eight years, and he calls the teenager "the joy of my life."
His struggle to find himself and his creative voice determined his mission statement as an artist. He wants to be a voice for the voiceless – a voice for the forgotten.
"I'm writing songs for that lady at the kitchen table who is struggling with stuff," Jelly Roll said. "I know what I'm writing and who I'm writing for. To me, music is always supposed to be personal. Sometimes music is heard, and sometimes music is felt. I always wanted to make music that made people feel something."
Jelly Roll has learned that staying busy is better for his mental health.
"I don't get to lay and flounder in my selfish thoughts of sadness," he says. "It creates purpose. It helps me feel like I'm moving with a purpose."
He detailed his mental health struggle to Audacy's Katie Neal and said he thinks it's something people need to hear.
 "I woke up, and for no triggered reason, I did not want to get out of bed," he said. "I could not pinpoint [why]… I just woke up and felt a cloud over my bed. Like the blanket was too heavy to push off of me."
Then his anxiety set in. He called it an "unrealistic anxiety" that made him wonder if it was a bad omen and that something terrible was about to happen to him.
"Then the next thing you know, you're checking your blood pressure for no reason," he said.
Depression isn't new for the singer, but it's something he only started to pay attention to as an adult. He remembers being told to "brush it off" as a child and said if his struggle could have been addressed at an early age, he thinks he could have stayed away from criminal behavior.
"I would have realized that my need for acceptance stemmed from feeling like I wasn't good enough," he said. "I felt like nobody accepted me… When you feel like nobody accepts you, there's always that one group that will, and it's always the trouble. I feel like I might have made some crazy different life decisions if I could have sat down and felt vocal enough to say, 'Hey, I'm leaning towards this because I don't feel accepted anywhere else.'"