Carrie Underwood Talks New Las Vegas Residency Shows, Current Single "Out Of That Truck"
On Wednesday, Carrie Underwood announced 18 new shows for her REFLECTION: The Las Vegas Residency in 2024.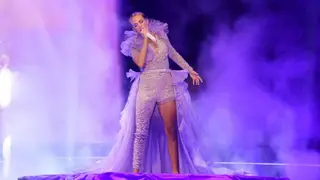 Luke Bryan may be preparing to take his final bow in Sin City, but Carrie Underwood's residency at Resorts World Theatre in Las Vegas is still adding shows.
On Wednesday, Underwood, the theater's first resident headliner, announced 18 new shows for her REFLECTION: The Las Vegas Residency in 2024.
"Big news for 2024!!" Underwood wrote on Instagram. "I'm so excited to share that #REFLECTION will be continuing at @resortsworldtheatre next year beginning in March! We love performing this show for everyone visiting from all over the world, and if you haven't seen it yet, come see us!"
Tickets and a limited number of VIP packages and upgrades to the new set of shows go on sale to the public 10 a.m. PST on Monday, Sept. 18.
Underwood's REFLECTION: The Las Vegas Residency was specifically designed for Resorts World Theatre.
March 2024: 6, 8, 9, 13, 15, 16
May 2024: 22, 25, 26, 29, 31
August 2024: 14, 16, 17, 21, 23, 24
And that's not all Underwood has in her creative pipeline. The Deluxe Edition of her 2022 "Denim & Rhinestones album will be available September 22. The new collection features six new songs, including her current single, "Out Of That Truck."  
"I think it's super relatable in that we all have a date place or your house or something that reminds us of people," Underwood told Apple while talking about "Out Of That Truck." 
 Whether it is a former relationship or people that are in your life or currently in your life or whatever, it's kind of like you just see fingerprints of people everywhere if it's a familiar space. And so, we wanted to explore that in the song. And if you're spending a lot of time with somebody being in a vehicle, especially if you do live out in the country and you are riding around in trucks and spending your time like that, (this is relatable)."