Inside Maren Morris and Ryan Hurd's Big Day
All the Details About the #GotMurd Wedding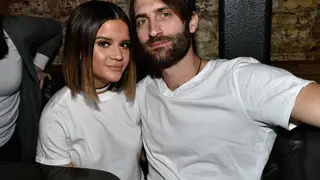 The country wedding of the year happened over the weekend, on Saturday (March 24), as Maren Morris and Ryan Hurd tied the knot during an intimate ceremony in Nashville.
Both the ceremony and reception were held at the Cordelle, in Nashville's historic Rutledge Hill neighborhood, the vibe was reportedly very chill, and the guest list was on the smaller side. It was mostly their families and a handful of friends from in and out of the music business.
And yes, there was music. Morris' walks up and down the aisle -- with her father and then with her new husband -- plus the dance party full of the DJ's mix of classic dance music, were all packed with some of the couple's favorite songs.
And yes, Morris' dress was 100 percent her. She wore a white embellished Cavanagh Baker mini dress with a long detachable train in the back. It was designed to resemble the badass vibe of the dress Morris' mother wore at her 1989 wedding, with embroidered lace from Spain and handcrafted crystals from India.
The couple hired event planners Erin Creighton and Cat Nail (David Nail's wife) to handle all the details of the big day. And family played the biggest part. Hurd's father Jim, his brother, and Morris' father each took a turn wishing the couple a lifetime of happiness. The bride and groom's mothers shared the lighting of the unity candle. And Hurd's brother and sister, and Morris' sister, served as the bridal party along with their new bulldog Pancake. A friend of the couple's officiated the outdoor wedding.
When it came time to eat, drink and be married, the newlywed's home states of Texas and Michigan were there to represent.
And once the celebration was over, Morris' mom shared some of the best wedding pictures and wrote, "(Ryan) is now our son and we couldn't be more honored."