Scotty McCreery's Wife Gabi Shares Photos From Her Dreamy Baby Shower
Close Family and Friends surprise Gabi McCreery with a "Winnie The Pooh" themed baby shower.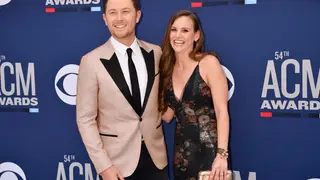 Life looks pretty sweet for Scotty McCreery and his wife Gabi, as the country couple will soon be parents to a little honey. Before the two welcome their first child together in November, family and friends gathered to shower Gabi with love and presents at a "Winnie The Pooh" themed affair. The mother-to-be jumped on social media Sunday (Aug. 21) to share snapshots from her aesthetically pleasing baby shower. 
"The dreamiest baby shower for my baby boy 💙" she wrote alongside the Instagram carousel. 
The first photo features Gabi smiling ear-to-ear posing in front of a neutral-colored balloon arch, while wearing a white sundress that showcases her growing baby bump. Gabi pulled her girlfriends in for a group photo and sat next to her mother as she unwrapped gifts for her unborn child. In a video, she revealed customized decorations and sweet treats specifically made for the celebration. 
Gabi continued to express her gratitude to her loved ones that contributed to the special day. 
"So so thankful for the sweetest family and friends, little beignet, and I felt all the love yesterday 💛Here's to hoping he loves Pooh as much as I do," she added. 
Numerous country music fans flooded the comment section with congratulatory messages, while others acknowledged the eye-catching details. 
"So happy for you and Scotty. I can't wait for the arrival of your little Beignet and to watch you and Scotty grow into parenthood. Congratulations and much love," said a loyal follower. "Just perfect, Gabi…decorations and theme so beautifully put together. Can't wait to see little Beignet add so much love and joy to your family. So happy for you & Scotty become family of 4," added another. 
The platinum-selling performer confirmed they were expecting in late June on Instagram, with a maternity photo of Gabi holding up baby cowboy boots and a sonogram. The "American Idol" alum declared that they always wanted to be parents, but were waiting for the perfect time. 
"We always knew we wanted kids, but we always knew we wanted the first few years to travel and have time on the road, to see things and experience life," the vocalist previously told People. "We've gotten to live a lot of life and do some cool things, so seems like now's a good time to settle down a little and expand the family," he added. 
Gabi and McCreery are high school sweethearts and tied the knot in 2018. Since breaking the news, the two have been counting down the days and gearing up to be parents. Gabi recently revealed a glimpse into their every life, where McCreery is constantly buried in a paperback titled "The New Dad's Playbook."