CMT Roundup: Justin Moore with Priscilla Block, Lily Rose and More
Madeline Edwards, Julia Cole, Restless Road, Avery Anna and more also released new music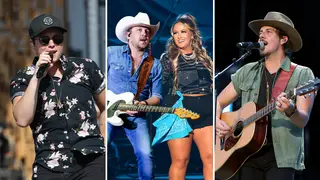 We just completed the first week of October, and while temperatures may be cooling of, country music is heating up. Justin Moore with Priscilla Block and Everette both bring fire this week with their blazing new releases as does Lily Rose who pairs her country swagger with traditional storytelling. 
To see what other songs we love, visit out CMT Roundup playlist pinned below.
Justin Moore and Priscilla Block, "You, Me & Whiskey": Moore and Block teamed for this sexy country duet about finding time to put your partner first.
Written by Jessi Alexander, Brock Berryhill and Cole Taylor, "You, Me, And Whiskey" spotlights distinctive the neotraditional qualities in both artists for a truly balanced duet that puts an engaging and relatable spin on making relationships work.
"You read 'You, Me and Whiskey,' and you think spring break, hookup, whatever, but for me, as a guy who's been married for 15 years with four beautiful children, it's about making time for your romantic relationship," Moore said in a statement. "Our children are priorities in our lives, but we also have to make 'us' a priority. That's what the song represents to me but the best thing about country music is that it can mean many things to many different people."
The duet is Block's first and Moore's second. 'You, Me and Whiskey,' is from Moore's forthcoming new studio album.
Everette, "Wild Woman,": Written by Everette members Anthony Olympia and Brent Rupard with Aaron Raitiere, this guitar-driven mid-tempo leans heavily into the duo's rock influences.
"'Wild Woman' sounded like a little folk song in the writing room, but with the juggernaut drums and cutting guitars on the record we're spotlighting our louder rock 'n roll side," the duo said in a statement. "The message is simple. Let your light shine wild no matter how dark the world may seem. Or how hard it tries to put it out. We love you just the way you are. Don't ever change that wild spirit inside you."
"Wild Woman" is from the duo's new collection "Kings of the Dairy Queen Parking Lot: Side B" that is out today.
Lily Rose, "Whatcha Know About That": Lily Rose has proved once again that she's destined for greatness in the ever-changing genre. While pushing the landscape along with her contemporary country swagger, she maintains the true beauty behind traditional storytelling. Recent release "Whatcha Know About That," embodies Rose at her very core – a modern musical risk-taker with an old soul. The spit-fire lyrics were penned by Dave Pittenger, Jonathan Hutcherson, Sydney Cubit, and Miranda Glory. Rose's effortless charm is placed on full display, as she uses imagery to discover how southern her love interest is.
"I wanna know what you know about that | Do you love a little Dolly P comin' through the dash? | Does your mama's sweet tea make the hot days cold?" questions Rose. "Mm-mm that's you and me both, yeah, what if I told you | I want that kind of love that's gonna last | Yeah, I wanna know what you know about that."
The high-energy track is stacked with striking guitar solos and a toe-tapping beat, perfect for two-stepping at a honky tonk. Rose told CMT that "Whatcha Know About That" accidentally fell into her lap and quickly became a favorite in her impressive catalog. The playful melody intertwined with the relatable narrative about love, will be  cranked up to ten in no time. 
"'Whatcha Know About That' has been one of the songs that has crept up on our whole team. We loved the original demo, and it felt great cutting it in the studio with Joey Moi, but it hasn't been until recently that the whole label/Mgmt," team has fallen completely in love with the song," shared Rose. "I only cut songs I love from the jump, but there's something about this song's energy and tone that just keeps growing on ya." 
Andrew Jannakos, "Heaven's Like  A Hometown": After nearly a year without releasing music, Andrew Jannakos made a triumphant return to the scene with "Heaven's Like A Hometown." The social media sensation turned country mainstay penned the soulful single alongside  Eric Arjes, Matthew McGinn, and Jordan Minton. Together they paint a beautiful picture of their vision of Heaven.
"I hope heaven's like a hometown | You can roll 'round | And all the streets of gold | Got a little bit of dirt on 'em | I hope it's just a quick ten to my momma's house | Every country mile's got a little white church on 'em | I ain't ready to go| But when he calls me home | To that map dot up in the clouds | I hope heaven's like a hometown | I hope heaven's like a hometown," sings Jannakos.
"Heaven's Like A Hometown" not only showcases Jannakos' colorful knack for songwriting, but his robust vocals made for the radio. The mid-tempo track serves as the follow-up to his chart-topping EP, "Gone Too Soon."
"'Heaven's Like A Hometown' is a song about hoping all your favorite people and things from your hometown are in Heaven when you get there, like Friday night football, fishing at my honey holes with my grandpa who has passed, and going to the Texaco with my buddies," Jannakos said.