Willie Nelson Details Suicide Attempt In New Book Out Today
Willie Nelson: "I'm not a bad fighter, but if you do fight, it's best to stay well within your weight class."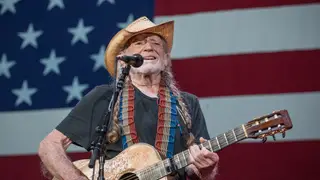 Willie Nelson's new book "Me and Paul: Untold Stories of a Fabled Friendship" is out today. And as the title suggests, the book is packed with stories about Nelson's relationship with his longtime drummer Paul English. They met in 1955, and their friendship lasted until English's death in February of 2020. Nelson even sang about their friendship in his 1970s hit "Me and Paul."
But what might come as a surprise to some is the suicide attempt Nelson shared in the book as he recounted his frustration trying to make it in Nashville. He saw singers become millionaires, but he failed to find footing. He wrote that he was living in a trailer park overlooking a cemetery. Depression zapped his get-up-and-go attitude.
"That's saying something because my get-up-and-go attitude is deep inside my DNA," Nelson wrote. "It's always been there, and I had believed, at least till I got to Nashville, it always would be. But Nashville was different. I hadn't ever lived in a place where singers and songwriters formed a big, vibrant community. I wasn't unwelcome in that community. But my problem was seeing how so many of its members were making a living making music while I wasn't. Not a dime. Not only was no one interested in my songs, I had a hell of a time finding a barroom where I could sing. I had to go back to hawking encyclopedias. And because my heart wasn't in it, I failed at that."
Nelson said the one thing he could do was drink – and he was hardly good at that. He would get sad or go crazy and pick fights with people twice as big as him.
"I'm not a bad fighter, but if you do fight, it's best to stay well within your weight class," he said.
He watched artists including Jim Reeves, Buck Owens, Hank Locklin and Ferlin Huskey filter through Tootsie's Orchid Lounge, and he saw it as "water, water everywhere, nor any drop to drink."
"These were all good guys who were writing good songs, looking for good songs, and recording good songs," Nelson says. "Somehow, though, my songs didn't seem up to snuff."
He called his early days in Nashville a "definite low point" and said, "depression had me in its grips."
"Throwing back bourbon on a freezing cold night at Tootsie's, I thought about an old song I'd heard Lightnin' Hopkins cut back at Gold Studios in Houston," he wrote. "He sang about feeling so bad until he lay his head on some lonesome railroad line and let it ease his troubled mind. So why not?"
Nelson said it had started snowing, and while there was no railroad nearby, Broadway was right outside Tootsie's door. He decided to lie down in the street and let a car run over him.
"I lay, prepared to stay," he wrote. "Eyes closed. Ready to move on and move out. If this world wasn't working, maybe the next one would. I lay for five minutes, then ten, then fifteen. Don't know why—maybe it was the bad weather and the late hour—but there was hardly any traffic. If one or two drivers saw me, they swerved out of the way. Was I relieved? Was I disappointed? Can't say for sure. All I know is that I got up, went back to Tootsie's, and had another drink."
Nelson went on to become one of the most beloved country artists of all time. He's acted in dozens of movies and recorded standards, including "On The Road Again." He was inducted into the Country Music Hall of Fame in 1993 and received the Kennedy Center Honors three years later. In 2015, he received the Gershwin Prize from the Library of Congress and was included as one of Rolling Stone's 100 Greatest Singers and 100 Greatest Guitarists.