Country Music Hall of Fame Elects Brooks & Dunn, Ray Stevens and Jerry Bradley
CMA Hosts March 18 Announcement in Nashville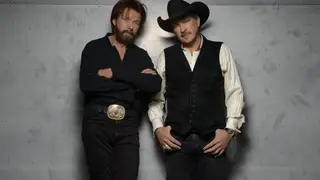 Brooks & Dunn, Ray Stevens and music executive Jerry Bradley have been elected the newest inductees into the Country Music Hall of Fame.
The Country Music Association hosted Monday's (March 18) announcement with WSM/Nashville personality Bill Cody at the Hall of Fame Rotunda. The formal induction will take place later this year during an invitation-only Medallion Ceremony at the CMA Theater.
Brooks & Dunn will be inducted in the modern era artist category, Stevens will be inducted in the veterans era artist category and music executive Bradley will be inducted in the non-performer category.
Brooks & Dunn, Stevens and Bradley will increase membership in the Country Music Hall of Fame from 136 to 139 members.
Here are some biographical highlights on each inductee from the Country Music Hall of Fame and Museum:
Jerry Bradley -- Non-Performer
Bradley has made an indelible impact on the country music business. Born in 1940, Bradley was educated in Nashville and served in the Army from 1960 to 1962. He was the head of RCA Records from 1973 to 1982. During his tenure, Ronnie Milsap, Dolly Parton and Jerry Reed achieved pop-crossover stardom, and Elvis Presley returned to the country music charts.
He was at the helm of the label when Alabama achieved stardom with its first chart-topping successes. He oversaw the creation of country music's first platinum-certified album, Wanted! The Outlaws, ushering in the "outlaw" movement with Waylon Jennings, Willie Nelson, Jessi Colter and Tompall Glaser. A longtime board member of the Country Music Association and CMA Board President in 1975, he was a key figure in orchestrating CMA's annual Fan Fair.
He also belongs to one the Nashville music industry's greatest dynasties. His father was Country Music Hall of Fame member Owen Bradley. Jerry's uncle was Country Music Hall of Fame member Harold Bradley, a member of the fabled "A-Team" session musicians and believed to be the most recorded guitarist in history. Bradley's uncle Charlie and cousin Bobby Bradley are noted recording-studio engineers. His aunt was the pioneering female Music Row office manager Ruby Bradley Strange. Jerry's sister is retired BMI executive Patsy Bradley. His wife Connie Bradley was the chief of ASCAP's Music City office from 1980 to 2010. His son is artist manager Clay Bradley. Jerry and Connie Bradley are now retired and remain beloved figures in the local music community.
Brooks & Dunn -- Modern Era Artist
Brooks & Dunn is the most awarded CMA duo of all time. The act was forged by Arista Records executive Tim DuBois. Kix Brooks and Ronnie Dunn were both eager to join the label's roster in 1990. Meanwhile, Asleep at the Wheel recorded Dunn's "Boot Scootin' Boogie" for their 1990 Arista album Keepin' Me Up Nights. When Dunn and Brooks came up with "Brand New Man" (with collaborator Don Cook), DuBois urged them to become a duo. Although each had solo aspirations and didn't know one another well, they agreed to become a team.
Brooks & Dunn achieved stardom overnight with the 1991 release of "Brand New Man" and "My Next Broken Heart." Dunn's searing performance of his self-written "Neon Moon" cemented the new act's success in 1992. The duo's recording of "Boot Scootin' Boogie" became a country dance club sensation. The team earned the first of 14 CMA Vocal Duo of the Year awards that fall. The following year, Brooks & Dunn won their first Grammy with "Hard Workin' Man."
By the mid-1990s, Brooks & Dunn were renowned for high-energy, high-tech concert performances. Dunn's electrifying singing and Brooks' exuberant showmanship packed arenas. "Only in America," co-written by Brooks, has been used extensively in presidential campaigns for both parties. Dunn's co-written "Play Something Country" and "Believe" became iconic singles of 2005, with the latter winning CMA Single and Music Video of the Year awards. Brooks & Dunn have also collaborated on recordings with such artists as Asleep at the Wheel, Johnny Cash, Billy Gibbons and Mac Powell. The duo announced their retirement in 2010, with a final performance benefiting the Country Music Hall of Fame. They reunited in 2014 and launched their Las Vegas residency "Together in Vegas" with long-time friend, McEntire, at The Colosseum at Caesar's Palace in 2015. The duo's new 12-track collaborations album, Reboot, arrives April 5.
Ray Stevens -- Veteran Era Artist
Having one of the most multifaceted careers in entertainment has led Ray Stevens to the Country Music Hall of Fame. During his six decades in the music business, he has been a session musician, a TV celebrity, a song publisher, a singer, a record producer, a real-estate magnate, a label owner, a nightclub entrepreneur, a music arranger, a video director, a studio builder, a pop-music hit maker, a comic, a gospel artist and a country star. Stevens is renowned for recording novelties like "The Streak" as well as serious fare such as "Everything Is Beautiful." He was elected to the Nashville Songwriters Hall of Fame in 1980.
When he was 17, his family moved to Atlanta where he met his music mentor, publisher/entrepreneur Bill Lowery. The mogul took him to Nashville to record and arranged a contract with Capitol Records. The company issued his self-composed teen tune "Silver Bracelet" with his "Ray Stevens" stage name in 1957. Stevens majored in music in college. But he truly received his education from Lowery, as did his peers Bill Anderson, Mac Davis, Jerry Reed and Joe South. He worked as an instrumentalist, backup vocalist and producer on recording sessions for Lowery, in addition to making his own records.
Stevens next signed with Mercury Records. He moved to Nashville in early 1962 and hit the ground running as a session musician on Leroy Van Dyke's "Walk on By" and Joe Dowell's "Wooden Heart." Those hits were recorded on the same day. So was his own comedic smash "Ahab the Arab," which exploded on the pop charts later that year. He continued to record humorous, self-composed songs for Mercury for the next five years. He also continued to work as a Music Row session musician. Stevens backed Brook Benton, Ronnie Dove, Brenda Lee, Patti Page, Elvis Presley, Charlie Rich, B.J. Thomas and hundreds of others.
He began his stint on Monument Records in 1968 with serious material such as "Unwind" and the socially conscious "Mr. Businessman." Stevens also produced some of Dolly Parton's early recordings for the label. He roared back into the pop Top 10 with 1969's wacky "Gitarzan," but later that year introduced Kris Kristofferson's somber "Sunday Mornin' Comin' Down." The latter song marked Stevens' debut on the Country charts. When pop superstar Andy Williams went on hiatus from his network television show in the summer of 1970, Stevens was tapped to host a temporary replacement variety series. For its theme song, Stevens wrote "Everything is Beautiful." Released on Williams' Barnaby label, "Everything is Beautiful" became a No. 1 pop smash. It also earned Stevens his first Grammy. The song has since been recorded by more than 100 other artists.
In 1991, Stevens opened his own theater in Branson, Missouri. During the next three seasons, he performed for more than a million fans there. He published his autobiography, Ray Stevens Nashville, in 2014. The following year, he launched his own television series on RFD-TV and then Public Television. In 2018, Stevens opened CabaRay Showroom, a 700-seat dinner in west Nashville.