Country Artists Shine at CMT's Equal Access Showcase
Camille Parker, Sam Williams, Angie K, Nick Tabron, Adam Mac, Valerie Ponzio, Dalton Dover, Denitia, and Fancy Hagood Were Featured Performers at the September 26 Event.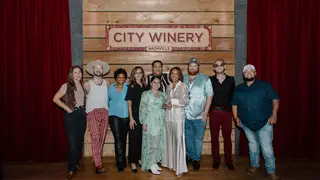 On the evening of September 26 at Nashville's City Winery, CMT's "Equal Access" program brought together some of Nashville's most exciting voices in a showcase presented by mTheory & Change The Conversation. Despite the showcase following closely after a jam packed week of shows that took over the city for Americana Fest, the room was filled with patrons eager to hear the voices of Camille Parker, Sam Williams, Angie K, Nick Tabron, Adam Mac, Valerie Ponzio, Dalton Dover, Denitia, and Fancy Hagood.
Leading up to the show, the power of community being built among diverse voices in country music proved its power by adding Kentucky born singer Adam Mac to the lineup. Mac was a late addition to the showcase, not because his talent has gone unnoticed, but because other artists on the lineup knew Mac was in need of a safe space and rallied to have him added to the bill. The week prior, Mac was forced to pull from a headlining spot at a Kentucky festival due to their board reaching out and making homophobic remarks. The night was exactly what Mac needed. "I was so honored to join such a beautifully diverse lineup of artists. It felt ike the future of country music," he tells CMT.
As the conversation in country music continues to intensify around who belongs in country music, CMT has made it clear that their answer is "everyone," through their partnership with mTheory for their Equal Access program. The program demonstrates their continued commitment to amplifying marginalized voices in the genre. Tuesday's lineup featured voices from many different backgrounds and perspectives, delivering one of the most diverse writers' round showcases Music City has to offer.
The evening was hosted by country music veteran and LGBTQ activist Chely Wright, eliciting a sense of both pride and nostalgia from many of the artists on stage. Wright used her voice as a host to share intimate stories of her journey through the music industry and advocate for the continued need to focus on inclusion within the country music genre.
During the show we also heard from Tiffany Provenzano, director of mTheory's Equal Access program about the extensive work they are doing to diversify the country music scene both on and off stage. The evening, for Provenzano proved to be a massive success. "We're all in this fight to make country music more equitable together, and to have an event where we could really see how much this community is growing, and dare I say, taking over, was just really great," Provenzano tells CMT.
A thoughtful songwriter with a powerhouse voice, Camille Parker kicked off the evening with one of her newest singles, "Peace." During Parker's time interacting with the audience between songs, she shared how scary it can be as an artist when preparing to release a full project for the first time, as she's recently experienced. Though she spoke of feeling afraid, both "Peace" and her second song "Heartless" delivered confident vocals that would earn her a place in any industry but feel right at home in country music.
Sam Williams is a third generation country music singer, as the grandson of Hank WIlliams, who brings a fresh approach to the genre. After requests from the audience, Williams wowed the crowd with his newly released version of his grandfather's classic "I'm So Lonesome I Could Cry."  
El Salvador born singer-songwriter Angie K proves the value of diverse voices in country music. After sharing with the crowd that she was a little starstruck having been in the same room as Chely Wright, K belted out her unreleased song "Red Dirt on Mars" and later a song inspired by her grandparents, "Laredo." Both times to a captivated room.
With influences such as B.B. King and John Mayer, Nick Tabron brought a unique style to the showcase, leading with a vulnerable original about unrequited love, titled "Is It." Next up from Tabron was a moody ballad about journeying home titled "Exodus."
Adam Mac's new school country sound fits right in with anything you would hear on mainstream country radio. Mac led off with "The One That Got Away,"  a tune about fleeing his hometown to find himself. For his second song he shared "That Ain't Country," a song which could have easily served as an anthem for the evening with lyrics such as "The people in the town where I was raised / They love me / And they got my back / So it's them you gotta face if you talk like that."
Season 12 "The Voice" contestant and CMT Next Women of Country alumni Valerie Ponzio takes risks by telling stories that usually go untold, using the power of social media to pique intrigue and garnering fans with her undeniable talent. Ponzio shared her newest single "Bad Guy" along with her song "Desert Rain," both of which demonstrate her storytelling prowess and commanding vocals.
Dalton Dover has taken the country music industry by storm, becoming one of the few artists of color to break into country radio with a booming voice akin to Luke Combs and his catchy songs. Dover drew in the crowd with his innovative cover of Alicia Keys' "If I Ain't Got You," and later left everyone wanting more after sharing his original song "Giving Up On That."
Denitia has spent years masterfully weaving in and out of many genres but has landed back home with country music which she describes as her "first cultural obsession." Her performances of "All The Sweet Tea" and the title track from her latest album "Highways" solidified her place in the genre.
Fancy Hagood has used his talent and impact to center himself as a beacon of community and inclusion for other artists. His charming personality was on full display as he interacted with the crowd in between versions of an unreleased song and his 2020 hit single "Don't Blink."
Music journalist, artist manager and Black Opry founder, Holly G is a new contributor to CMT.com. Her views are expressly her own. Connect with Holly G on X.