CMT Premiere: Roberta Lea Stands for Female Empowerment in "Too Much of a Woman"
Roberta Lea said she wants people to know what it means to be "too much of a woman" when they watch the video.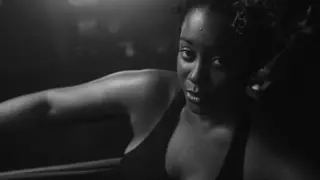 Country singer Roberta Lea delivers a knockout punch today with her new video for "Too Much of a Woman."
The video is set in a boxing ring with Lea singing: If I'm too much of a woman, you can kindly step aside| A true king can handle me, he's got what it takes inside| I hate to disappoint you by, now you should understand| If I'm too much of a woman, you're too little of a man.
"This music video stars Neisha Himes, who is a survivor of domestic violence," Lea said. "She is the founder of G.R.O.W. (Girls Recognizing Our Worth) and took up boxing so that she'd never feel like she was defenseless again. She completely embodies the power in this song. To capture a moment of vulnerability and juxtapose it with a moment of triumph is exactly what the song is about."
Lea wrote the song, and Nate Brown directed the video. 
The singer said the boxing gym was freezing cold when they shot the video, but they had to make the scene look believable. They were supposed to look like they were sweating, so they had to spray each other with water.
"We'd tense up as we were about to be sprayed in the face," she said. "Throughout the shoot, we'd suddenly hear, 'Sweat on the set!' which meant we were gonna get sprayed! Soon enough, we started to spray each other and enjoyed the power play for the rest of the day."
When she saw the video for the first time, Lea said she was "completely taken aback."
"Nate Brown captured the vision perfectly, and Neisha represented her own strength and the strength of the women she supports so well," she said. "It was captivating."
Lea hopes fans who watch the video will feel empowered to assess any situation that isn't in their best interest and find the strength to step away. 
"I want them to feel the exhaustion and the strength; the sadness and the pride; the pain and the power," she said. "I want them to know that that's what it means to be 'Too Much of a Woman.'"