Brandon Stansell Lives History in "Hometown"
Cinematic Video Revisits Moving Story of His Coming Out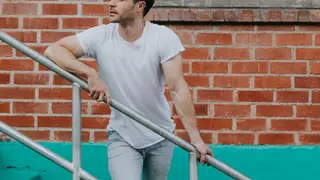 You have to laugh to keep from crying learning about the hard conversations rising artist Brandon Stansell endured during his time as a closeted gay man.
It's a pain that many who keep that massive secret to themselves know well. From the age of six when he first knew he was gay to the time of his coming out at age 22, Stansell often listened to loved ones who didn't accept members of the LGBTQ community trash talk everything about their private lives.
Writing songs was what saved him during that difficult time in his life and what continues to inspire him to live life to its fullest. During our CMT.com conversation over coffee at Nashville's Pinewood Social, he couldn't help but chuckle over one conversation he had with a sibling who was studying law.
"I have a sister who went to law school, and I remember when gay marriage was decided in the Supreme Court," he recalled. "We went back and forth about how she didn't feel like gay rights were civil rights issues. Like, what? We are living history.
"In my community, it's very easy to live in this hurt place which I totally get," he added. "It's a valid thing because people do [expletive] things to people just for being gay. I totally get staying there. But at some point in my life, I had to decide whether I wanted to live in that place or do something good with the bad that happened. That's what I chose to do."
Not only is Stansell living history, he is also a triple threat as a powerhouse vocalist, world-class storyteller and a talented dancer whose resume includes Taylor Swift's Fearless tour. And no subject is off limits to him when it comes to writing original material. Co-written with Mylen, Stansell's newest release "Hometown" is inspired by a moment when someone in his family was giving him a hard time for being gay.
"Sometimes people when they write with me they say it's like therapy sessions," Stansell says. "Even songs that come out just more lighthearted, they start from a place of gravitas I have a hard time writing to things that I don't feel very deeply. Even though the song was written from a place of hurt and hope, it was more hope on the end because I feel like I'm on the other side of it."
For the official video, Stansell revisits the pain of his coming out with some creative license. He plays the lead who comes out to his mother who then kicks him out of the family home. Stansell's goal was to address two schools of thought in a coming out experience.
"I was actually living at my sister's house, and that exchange was more between my older sister and me," he recalled. "So, when people ask me if it was my real life story, I say, 'No, it was worse,' because it wasn't my parents who I felt like there's a built-in excuse for the generation before you because they don't know. They're a product of their making. They didn't know what to do with a gay son.
"Coming out is the hardest thing I've ever had to do. And it was a time when I was 22, and I knew that my family and friends would react differently. And so I prepared myself for that. But I wasn't ready for the words.
"I wasn't ready for the things that were said to me and the things that were done to me. I felt like in making the video, it has that nice reminder and the things that you say and the things that you do make a lifelong impact on these people whether it's your gay son, gay daughter or you trans friend, brother sister whatever. It is life-changing. Don't take it lightly when you're having those conversations."
"Hometown" is from Stansell's full-length album, Slowdown. It is being re-released with additional commentary plus the video in one package to support the nonprofit Nashville Launch Pad, volunteer-based initiative striving to provide street free sleep to youth between the ages of 18-24 with a focus on welcoming LGBTQ youth.