Kenny Chesney And Old Dominion Drops Fun-Filled Music Video For "Beer With My Friends"
Kenny Chesney reflects on his record-breaking Here And Now 2022 Tour – check it out!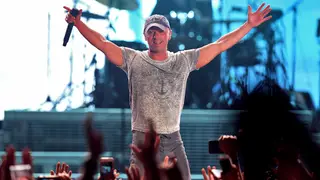 Kenny Chesney's Here And Now 2022 Tour has come and gone, but the memories made with No Shoes Nation will last forever.
 The country music sensation documented the joyful moments while on the nationwide stadium tour, where he played to 1.3 million fans. Chesney used the raw footage in his recently released music video for the drinking anthem, "Beer With My Friends" featuring Old Dominion. 
The East Tennessee native surprised listeners with a live debut of "Beer With My Friends" at his final stop in Foxborough, Massachusetts. The platinum-selling ensemble embarked on Chesney's wild ride alongside Dan + Shay and Carly Pearce. 
"When I knew I wanted to do this song, I knew I wanted to do it with Old Dominion," Chesney explained upon release. "The kind of summer this has been, the music, the moments, every member of No Shoes Nation, I wanted something that captured that heart and spirit – and I wanted to pull someone in who'd understand. We've all been inside this song on good days and bad days, and whichever you're having, I want people to reach for this song." 
The feel-good track was penned by some of the best songsmiths in the game – David Lee Murphy, Shy Carter, and Bryan Simpson. "Beer With My Friends" is a laid-back jam with a sing-along-worthy chorus. The blue-collar anthem is a whistling-while-you work-type tune, that is harmony-stacked and infused with electric guitar licks and heart-thumping percussion. The world-renowned songwriters captured the blissful feeling of throwing back cold ones with friends after a long day. 
 The action-packed music video begins with the hitmaker and the five-piece band on a tour bus hanging around before an impromptu pop-up show. Old Dominion, comprised of Matthew Ramsey [lead vocals], Trevor Rosen [guitar], Whit Sellers [drums], Geoff Sprung [bass guitar], and Brad Tursi [guitar], became notorious for shocking music enthusiasts with secretive concerts in each market. Chesney periodically joined in on the fun. 
"I'm here to have some beer with my friends at an Old Dominion pop-up show," the hitmaker declared in the video. 
The high-energy clip gives country fans a glimpse behind-the-scenes of the state-of-the-art trek. It also features a handful of parking lot parties, Chesney cooling down in an ice bath, rowdy rehearsals, a cameo of his mother, and more. The powerhouse mentioned that putting the unforgettable experience into words was challenging, so he compiled his favorite moments into a video instead. 
"I tried to tell friends how magical it was up on that stage, how good the vibe was out there," Chesney recalled. "Not since we started doing those early Keg shows have I had that much fun doing a pop-up – maybe because Old Dominion was doing all the work! But it was just free, easy, and I think everyone remembered who they were before the world got so heavy. Or maybe it's just that music really does melt all the stress of the week away."
He said including his devoted community into the "Beer With My Friends" music video was a no-brainer. 
"No Shoes Nation is just an extension of my soul. When I was looking at all the footage, laughing to myself, I knew I needed to share some of this with everyone who came out all summer. So, what better way to do that?" he shared. "If every picture is a million words, then every cut of this clip is a whole movie! Every shot means something to us, all those faces in the crowd, the stadiums... And to have Old Dominion, who've turned into real brothers of the road, up there with me, it shows not just this summer, but so many summers where we've dreamed even bigger than maybe anyone has a right to."