Brad Paisley: Backstage Before the CMA Awards
The Journey from the 40th Row to the Stage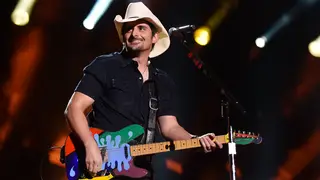 The CMA Awards are not just another show. At all. For so many country artists and their fans, this is it. Whether you're brand new or you're the host, this is a very big deal.
"I've grown up watching the show. I've always wanted to be a part of it," show co-host Brad Paisley said during an interview backstage before the broadcast on Wednesday night (Nov. 14). "My history is tied to this place. I love the way that it honors our type of music.
"It's always a very classy thing," he said, "even when I'm up there."
Paisley took home the CMA's horizon award -- now called the new artist award -- in 2000, so he's been part of the show for nearly two decades. There was a time, though, when Paisley wasn't even a nominee. He was only a couple singles into his career, and was a long way from the stage.
"In the evolution of myself, you can sort of mark time based on the CMAs," he shared. "The first time I ever went to the show I was not nominated. I was brand new, and I was about 40 rows back. And to somehow have made my way onto that stage as a host is one of the most rewarding and fulfilling things I could've ever done." (You can hear the thrill in Paisley's voice when he tells the story of the first time he made eye contact with Merle Haggard, and Haggard knew Paisley's first name.)
When he takes a break from his co-hosting duties with Carrie Underwood at the show, he'll be performing his just-released "Bucked Off." Paisley wrote it with Chris DuBois and Kelley Lovelace, and he describes it as "turbo honky-tonk music."
"It's kind of a tribute to one of my heroes -- George Strait is mentioned a few times -- as well as reminiscent of that great 80-90s country that had so many great rodeo analogies and metaphors, things like Garth (Brooks) was doing," he said.
Tune in to see all of the performances and awards when the 52nd Annual CMA Awards air LIVE at 8 PM ET/7 PM CT on ABC.