Watch: Kelsea Ballerini Reveals Hometown "Bucket List" Show, Headlining Knoxville's Thompson-Boling Arena
Kelsea Ballerini's Thompson-Boling Arena concert is Nov. 2, near the one-year anniversary of her divorce. The fan club presale starts at 10 a.m. ET Wednesday. Tickets for the general public go on sale at 10 a.m. ET Friday.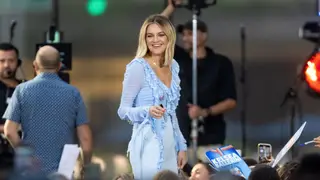 There's no doubt that Kelsea Ballerini is proud of her East Tennessee hometown – Knoxville, Tennessee. And nothing screams success to an East Tennessee artist quite like their first opportunity to headline Thompson-Boling Arena, where the famed Lady Vols play, on campus at the University of Tennessee.
Ballerini and her dog, Dibbs, made a video posted to the singer's social media accounts on Tuesday announcing her first headlining concert at her hometown's most significant indoor event space.
The show is set for Nov. 2, and the fan club presale starts at 10 a.m. ET Wednesday. Tickets for the general public go on sale at 10 a.m. ET Friday.
"Throughout the last decade and four albums, there has been a consistent ode to my hometown, Ballerini wrote on Instagram. "Whether it be lyrically like in 'half of my hometown' or celebrating milestone moments in venues like my high school, the tennessee theater, or the civic center, it's always been incredibly important to me to go back to the place that let me go to chase my dream."
Ballerini said playing Thompson-Boling Arena has been on her "bucket list" since she was a child watching her favorite musicians on stage.
"It is the perfect place to celebrate such a bookmark year and kick off a new level of touring," she wrote. "See you november 2, knoxville 🧡"
Ballerini's life looks much different today than it did a year ago. Her divorce from fellow country singer Morgan Evans was final November 3, 2022, and she's happily moved on with actor Chase Stokes. She just finished a major headlining tour and spent time opening for Shania Twain. She appeared on "Saturday Night Live," and she released one of the most critically acclaimed EPs of the year with her "Rolling Up The Welcome Mat" AND "Rolling Up The Welcome Mat (For Good)." The latter is the deluxe version of the EP that Ballerini started writing as she processed the unraveling of her marriage and divorce.
Ballerini chatted with SiriusXM's Macie Banks, who hosts the mornings on SiriusXM's The Highway, about how surviving the emotional rollercoaster of the last year shifted her approach to songwriting.
 "I want to live a life to write about," Ballerini said. "I've been so busy since September (2022) when 'Subject [To Change]' came out, and I want some space to take inventory of my life and enjoy it."
Ballerini will perform on the 2023 VMAs 8 p.m. ET tonight on MTV.