Michael Ray Talks New Duet "Spirits & Demons," Says New EP Represents Him
Michael Ray: "I want people to understand where I come from, how I got there, why I love watching country music come to life."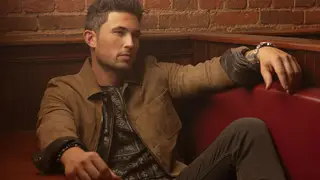 Michael Ray is gearing up to release his "Dive Bars & Broken Hearts" EP on June 23 – but today he shared his Meghan Patrick duet "Spirits & Demons." The track is described as something that melted down the tangle of how heartache makes you drink booze,   makes you hurt and forgetting is the hardest thing to do.
"Sometimes you hear a song, and it hits you: that's just how it is," Ray said. "You play enough bars beyond the city limits; you see it all go down. Really good people who get in their feelings, the way a good time or a way out becomes a bottomless pit. The more I listened, the more I thought it needed something else..."
That something else was a female duet partner to balance out the song. Ray and "Dive Bars & Broken Hearts'" producer Michael Knox discussed who they thought would be a good fit and landed on one name – Meghan Patrick.
"We went through so many thoughts and names; they were all great, but nobody felt quite right," Ray said. "And it's funny because the answer was right under my nose. I've been friends with Meghan for years, in the way you've got your 'Hey, I'm off the road. Wanna grab a beer?' friends when you're home for two or three days."
Ray said that Patrick is one of those friends who understands the commitments the job requires and that even after they haven't seen each other for a long time, they can always pick up where they left off.
"Meghan's not only a friend and a great hang, no matter who's around, she's got a voice that can blister concrete – and a gift to reach right into a song and rip its heart out, put it in her throat and meet you line for line with some intense emotions," Ray said. "Not only do I have the woman, who like so many things on this record, is exactly what I heard in my mind, but I've got someone who's actually one of my friends. To be able to sing with her, that's awesome."
The EP is Ray's follow-up to his 2021 release "Higher Education" and is home to his current single "Get Her Back." He said the album's title track could be a master thesis on all things that define country music.
"When you were raised on '80s and '90s country, and even older stuff, some things just are," he said. "The way the acoustic guitar comes up out of the mix, the smell of cigarette smoke, pawn shop diamond rings, Haggard's 'Misery & Gin'...All those things and a beat you can dance to is a big piece of playing for tips."
He said "Dive Bars & Broken Hearts" represents him getting back to the sounds he heard in his head. The song's video is him attempting to pull the reality of the music together.
"I want people to understand where I come from, how I got there, why I love watching country music come to life from all those bandstands I was on growing up." He said. "And I wanted people to realize all those things I sing about aren't just things on a checklist, but stuff I have grown up around."