CMT Roundup: New Music From Dolly Parton, Travis Denning, O.N.E The Duo and More
Check out CMT's full The Roundup playlist in this story.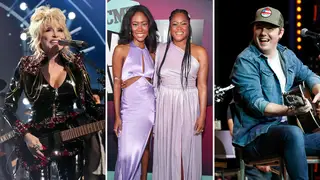 Country music is heating up for the summer this weekend with multiple new songs by some of the genre's top artists. Dolly Parton, Jelly Roll with Lainey Wilson, Bailey Zimmerman, Jason Aldean, Sam Hunt and more have new tunes out that range between mamas, beer and political commentary.
Check out CMT's full The Roundup playlist.
Dolly Parton, "World on Fire": "It's kind of fitting to the times. It's called 'World On Fire,' you know, 'Liar, liar, the world's on fire. What you gonna do when it all burns down?'" she said. "So it's really kind of about the times and how we can do a little better if we try to try to heal the divide and just get along a little better. It's really got a great message to it, but it's also a good and solid rock anthem."
Bailey Zimmerman, "You Don't Want That Smoke": "That song came to me in a text from a random number," Zimmerman told Apple. "I didn't have the number saved… They had never texted me, and it was just a song. So I clicked on it one day right before the shower and put it on… and then I stopped and I was like, 'Oh my gosh, what is this?' 15 seconds in, listen to the first verse. And I'm just like, 'Who the heck is this?'… It was Tucker [Beathard singing] on the demo. And I'd never heard a voice like that. I'd never heard of Tucker before. I'd heard his name, but never heard him sing it… And then it was Jimi Bell who sent it to me and said, 'Hey, me and Tucker wrote this, what do you think of it?' And I'm like, 'Dude, smash. I love this song. Holy cow.'"
Travis Denning, "Second Best Thing" and "New Year's Kiss": "I'm not necessarily the best gift giver, but I always like to think that I can express the way I feel best when I write," said Denning. "That's definitely the case with me and Madison and our relationship and my love for her. These songs felt like a nice gift that I wanted to give to her and show Madison and the world how much she means to me. She does not know these are coming out today, so I'm hoping that she really enjoys the surprise. Madison is pretty smart, though, so I wouldn't be surprised if she is onto me!"
Walker Montgomery, "Work To Do": "We were talking about how you go into a bar and these poor ole boys are sitting there drowning their sorrows drinking alone," Montgomery said. "I feel like anyone who has ever been through a hard time could relate. I think it's a great song to introduce me to the folks who may not have heard of me yet… it's very traditional."
The Dryes, "Mama's Do": "This is for all the mamas who show up for us day in and day out. Our mother's love and prayers have gotten us through when we haven't had the words ourselves," said The Dryes. "This song represents all the memories of what motherhood has looked like from our perspective, and we are blessed to have amazing women in our corner, rooting us on in every part of our life."
O.N.E The Duo, "Hearts Like Mine": "'Heart Like Mine' is definitely one of our more vulnerable songs," says O.N.E The Duo. "It's a look into the different perspectives of ourselves and how we love. The main sentiment we kept coming back to when writing this song with Rebecca Lynn (Howard), Elisha Hoffman, and Barnone was the thought of, even with all the quirks that our 'hearts' have, it's what makes us unique and worth holding on to. Easy to lose and hard to find."
Riley Green, "Different 'Round Here (Ft. Luke Combs)": "Ever since we originally released the song a few years ago, we have seen so many military families, athletes, and hard-working everyday people use the song in their own videos," Green says. "It has also been one of those songs that proud hometown fans sing along to the loudest, night after night. While up in Canada with Luke at the end of last year, we saw the same thing, and it felt right re-releasing it together."