Blake Shelton And Gwen Stefani Cheer Jay Allen At Sold-Out Show: "Icing On The Cake"
Blake Shelton: "Gwen and I actually share custody of Jay Allen."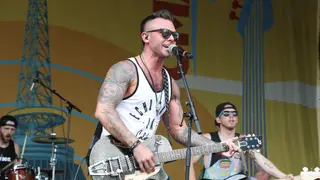 Promising new artist Jay Allen received an unexpected surprise at his recent concert in Oklahoma. While performing at Ole Red in Tishomingo on Saturday (Dec. 17) night, the singer-songwriter saw two familiar faces in the audience – Blake Shelton and Gwen Stefani. 
Shortly after his last gig of 2022, Allen turned to social media to share the memorable moment and gratitude. 
"Dang…Blake and Gwen surprised me last night and showed up for my last show of the year at his hometown @olered in Tishomingo, OK," declared Allen on Instagram. "Icing on the cake, it was sold out, and my new in-laws were side stage with all of our Oklahoma family & friends. You can't plan moments like this…🙏🏼." 
Stefani and Allen share a tight-knit relationship, as she served as his coach and mentor on Season 22 of NBC's "The Voice." The vocalist made waves during the hit competition show and the blind auditions. Allen's infectious vocals and emotional rendition of Cody Johnson's chart-climbing hit "Til You Can't" turned both their chairs and caused a significant rivalry between the happy couple. 
Despite their battle, Allen picked Stefani to strike a fine balance between his love for country and alternative rock. In the middle of the season, Shelton snagged Allen from his loving wife after she picked contestant Cara Brindisi during a heated sing-off. The "God's Country" singer used his one-and-only "steal" on Allen to prove that he strongly believes in his craft. Shelton's successful track record on and off the show made the decision easy for Allen. 
"I've been in Nashville almost 10 years," Allen previously shared. "Blake Shelton is a legend…I am in the country music business, and you are country music," he added before making the shift. 
The fast-rising star was eventually eliminated during the Knockout Round, when he had to sing against the season's winner Bryce Leatherwood and front-runner Kate Kalvach. Following Allen's surprising departure, he immediately hit the road to keep up the positive momentum.  
Early Tuesday (Dec. 20) morning, Allen shared a hilarious video of Shelton explaining his complicated relationship with the newcomer to a respectful audience at Ole Red. 
"Gwen and I actually share custody of Jay Allen," said Shelton. "Because he was on both of our teams." 
The short clip also takes fans behind the scenes of his intimate concert featuring the two hitmakers. While sharing the candid snapshots in the video, Allen referred to Shelton as his "dad." In the caption, Allen thanked the husband-and-wife duo for taking him under their wing. 
"Never thought this would happen lol…In all seriousness, I'll be forever grateful for my time on @nbcthevoice," he wrote. "Thank you @blakeshelton & @gwenstefani for taking me in and helping me accomplish good through music 🙏🏼." 
The must-watch artist recently tied the knot with country breakout star Kylie Morgan, the singer behind the viral hit "Bridesmaids." Allen recently released his single "No Present Like The Time," an eye-opening ballad inspired by his late mother who passed away from Alzheimer's in 2019.  
Allen is expected to return to touring in February. While hitting notable venues, he will take a break to perform at the Alzheimer's Benefit Gala on April 22. For more information on how to contribute to his philanthropic efforts, visit jayallenofficial.com.