2023 CMT Music Awards: Ashley McBryde Explains How Her New Song Gifted Her Family A Different Way To Say 'I Love You'
THE CMT MUSIC AWARDS EXTENDED CUT" AIRS 8P/7C THURSDAY ON CMT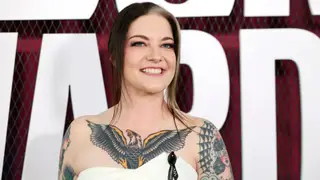 On Sunday, country music fans who tuned into the 2023 CMT Music Awards saw Ashley McBryde and Wynonna Judd turn in one of the night's most compelling performances with "I Want To Know What Love Is." Those who catch the extended version of the 2023 CMT Music Awards on CMT Thursday night will see an extra performance from McBryde, too -- "Light On In The Kitchen."
THE CMT MUSIC AWARDS EXTENDED CUT" AIRS 8P/7C THURSDAY ON CMT.
McBryde wrote the song with Connie Harrington and Jessi Alexander in the summer of 2020 when the pandemic held much of the world hostage and drove people stir-crazy. The women were tired of being stuck in their homes and started writing a song. McBryde said they started spilling their ideas on the table, and when Harrington said, "Light On In the Kitchen," the title struck a nerve. 
"We all kind of stopped," McBryde said. "We decided that's what we were going to hunt with that day. I was like, 'Well, there's always a light on in my mama's kitchen, both of her sisters, both sets of grandparents, and there's always one on in mine. Then we started uncovering other things like the line about local honey will keep your nose from running."
She said they focused on the helpful little things from the women in their lives and that by the time they were finished writing, they were all crying "good tears."
"We realized that light on in the kitchen meant so much more than we had given it credit for when we first said it," she explained. "It means, 'I'm thinking about you. It means, 'I care if you come home.' Now, since writing the song, my mom and her sister Gloria, we say that sometimes in place of, 'I love you,' especially if I'm somewhere like Australia like I recently was.'"
McBryde said she sometimes texted her mom and told her she was headed to the stage and that she'll leave the light on. Her mom texts her back, saying, "The light is on, honey."
"How cool is that?" she said. "The song that that we made up now gets to gift my family a new way to say, 'I love you' or 'I'm thinking about you' or 'What you're doing right now matters to me no matter where it is on the planet.'"
McBryde feels that the superpower of songwriters is to take something gigantic and shrink it down to three minutes or to take something microscopic and expand it to three minutes.
"I'm assuming we're still allowed to make three-and-a-half-minute songs," she said. "I feel like we are."