Shania Twain Speaks Out About Her Previous Throat Surgery And Future As A Vocalist
Shania Twain's upcoming album "Queen of Me" will showcase her new sound since undergoing open-throat surgery.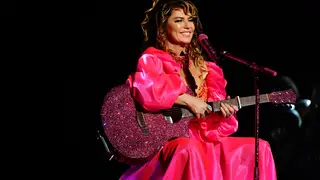 Country music icon Shania Twain is gearing up to release her sixth studio album, "Queen of Me."  The highly anticipated record will serve as her Republic Nashville debut and first release since her open-throat surgery in 2018. 
The best-selling female country artist previously caught up with TalkShopLive to discuss the career-altering operation, her recovery journey, and her unknown future as a vocalist. Twain contracted Lyme disease in 2003, a tick-bonrne illness that she believes caused dysphonia. 
In order to continue with her music career, Twain underwent several surgeries. Following the invasive procedures, Twain had to "come to terms" with losing the voice that fans worldwide admired and was forced to rediscover a new one. Through therapy, she learned how to navigate her sound and embrace the change. 
Twain believes that the forthcoming collection signifies her bravery, as she was once apprehensive about moving forward with the risky surgery.  
"For me, this album means so, so much about my decision-making and the courage to get the operation, know that I may never even be able to sing again after the surgery," she explained to the outlet. "So, that was a big decision." 
While recording, Twain found herself experimenting with her vocal cords and testing her boundaries. As she fearlessly stepped outside her comfort zone, the hitmaker discovered ways to compliment her sound by creating songs that were "less challenging." 
"Every day that I was recording, I was testing the new voice," declared the songstress. "Getting on the mic in the studio, it's vulnerable. You can't drown it out with production or a band or mixing or anything like that until much, much later on." 
While cultivating the collection, Twain revealed that she wrote "basically four albums worth of music" and that "Queen of Me" is just the beginning. Twain said that the album was a great test, and she had to push herself through a "fear zone" to accomplish the "milestone." 
Twain considers "Queen of Me" her most meaningful album to date. 
"Historically for me, vocal-performance wise – absolutely," she pointed out. "What's even more precious to me is that I don't know if the procedure that I had will last forever." 
She continued to give a health update and what her future as a singer may look like. 
"With age, it could just not hold up, and that could be it," said Twain about her vocal operation. The multi-platinum artist understands that she will eventually have to make difficult decisions regarding her health. "I'll have to make another decision. I will do the operation again or not? Do I just now write music for other people's albums at that point? I will gladly do that, and, again, it will be another decision that I will have to make as the queen of me. Some decisions are tougher than others." 
Although Twain is uncertain about the future, the singer confirmed that she's feeling  very  comfortable in her own skin and ready to tour. Twain's 2023 international trek will kick off Friday, April 28, in Spokane, Washington. The 50-date trek will come on the heels of her album release on February 3. Tickets are available for purchase, here.