Lauren Alaina Shares New Song Titles, Says New Music Is "A Whole Lot More Country"
Lauren Alaina said she thinks her new songs feel like her hometown and will make her big brother proud.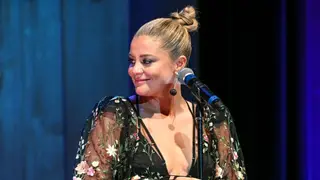 It's been exactly 13 months since Lauren Alaina revealed she had parted ways with her longtime record label UMG Nashville – and about eight months since she announced that she had signed with Big Loud. And while she's released no new music in that time – she promises it's on the way.
Last week, she previewed three new songs in front of a crowd of radio industry executives and fans at Live In The Vineyard in Napa, California. The crowd roared as she sang about everything from relationships to supporting other women.
Before the show, she sat on a rooftop in a sheer black dress embroidered with flowers and excitedly explained the experience of working on new music for the last several months.
"Working with (producer) Joey (Moi), it's life-changing, honestly," she said. "I'm always really proud of my music, and I always feel like I say the new project is the best project. But this one's just really different and refreshing and feels like it represents me as a woman and a new sound in general."
Alaina's new songs include "Don't Judge a Woman," "Like Her" and "Walk in the Bar," all of which received a raucous reception from the crowd.
"It's a whole lot more country," Alaina explained. "I mean, it's not like John Pardi country. We got steel guitars. We have a lot of that kind of stuff."
She says "Walk In the Bar" is the closest bridge to what she's done in the past.
"I've always kind of leaned a little bit like pop country and power ballads," she said. "These are very different. It's more acoustic-driven. The ballads are more acoustic driven."
The songs, Alaina said, sound like her hometown.
"I don't ever feel like I like got away from myself because I'm pretty comfortable in who I am," she said. "I've always ran after that and tried to be like the best version of myself. But I feel like I'm recording and writing music now that my big brother will be like, 'Sis, that's really cool.' It's a little more indicative of the person, the girl from Rossville, Georgia, in some ways."
Alaina wrote "Walk In The Bar," but someone else penned "Don't Judge a Woman" and "Like Her." However, she said they're so close to who she is that she feels like she could have written them. She wouldn't have recorded the songs otherwise.
"Both of those feel very true to something I would say," she said. "I'm very intentional with the outside songs, but I've cut quite a few for this new project. I feel really encouraged by the community in general. I think the change got everybody really excited to create with me again."
Since she and Hardy released "One Beer" through her new label Big Loud and the song went to No. 1, she feels encouraged for the future.
"We got a pretty good one out of one," she said. "We've already done it. I could not be more excited."