Martina McBride Opens Up About Her Cameo In Drama Series "Monarch"
Martina McBride gushes about her guest appearance on "Monarch" and talks about touring with Wynonna Judd.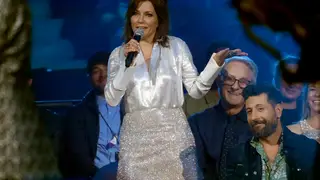 The highly anticipated drama series "Monarch" officially premiered on FOX last week (Sept. 11), and country music fans might have recognized a familiar face – Martina McBride. 
The multi-generational show is centered around a fictional country icon Dottie Cantrell Roman, played by Academy Award winner Susan Sarandon and her husband Albie Roman [Trace Adkins]. While appearing alongside season regulars Anna Friel, Beth Ditto, and Joshua Sasse, the two run the respected dynasty they built within the genre. 
TV junkies soon learn that their empire is built on a throne of lies. Nicolette "Nicky" Roman, the daughter of Dottie and Albie, goes the extra mile to protect her family's reputation to reach success in the music industry. In the midst of the twists and turns, the "Independence Day" star appears as a special guest. 
McBride told FOX News Digital that making a cameo in the action-packed series was a no-brainer, and she immediately jumped on the opportunity after reviewing the finger-biting storyline. 
"I read the script, and I was like, 'This is juicy, it's big, it's exciting,'" recalled the country legend. "I was really thrilled to be asked to be a part of it. When you think of all the people that they could have asked to be a part of this, especially the first show, the debut show, there are so many, so I don't know why I got chosen," she added. 
The chart-topping artist is one of many notable names on the star-studded roster. Throughout the first season,  Shania Twain, Tanya Tucker, and Little Big Town will all serve as supporting actors. McBride believes that "Monarch" is set to be a hit television show. 
"It's so special to be asked to be a part of something like this," she shared with the outlet. "I think this show is going to be one of those shows that everybody wants to watch." 
The songstress might be on to something, as "Monarch" had a successful premiere. According to Deadline, the Melissa London Hilfers production garnered 3.8 million views, and 1.5 million individuals tuned in to watch the encore airings. "Monarch" marks FOX's most-watched fall scripted debut since the release of "Prodigal Son" in 2019. 
The captivating narrative focuses on the ever-changing country landscape in the early 1990s. McBride credits the writers for emphasizing that specific era, since she considers the early 90s a "great time for country music." 
"It's very smart to base this show around that time period because it has so much nostalgia for so many country music fans," said McBride. "I think it's going to be the perfect time period for a big dramatic show like this."  
"The Judds have just always been there. They are such an iconic part of our music history in country music, and I can remember singing 'Mamma He's Crazy' back in my dad's cover band in Kansas and was just smitten from then on," McBride expressed to FOX News Digital. "So all of these years later, to be able to be asked to be part of this tour honoring the Judds, Naomi, Wynonna, it's thrilling and so special."
She encourages fans to attend the must-see show, as it will be the last time they will hear music from The Judds' impressive catalog live. 
"It is the final time that you're going to be able to go and hear this music live," she clarified. "I just hope that everybody is immersed in it, really present. I think there is going to be such a positive, huge vibe of energy and love and giving back and forth between the artists and between Wynonna, obviously, and her fans. I'm looking forward to just soaking that up every night."
Tickets for "The Judds: The Final Tour" are currently available here. Episode two of "Monarch" will air tonight, Sept. 20, at 8 p.m. CT on FOX.