'Hot 20': A Rare Glimpse of Dolly Parton's World
Miranda Lambert Joins Her for "Dumb Blonde"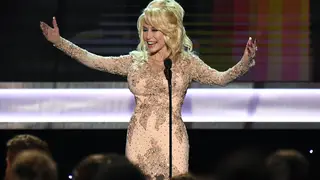 New collaborations on old songs? Yes, please.
That's just some of the thinking that went into Dolly Parton's new album Dumplin' -- the soundtrack for the upcoming movie of the same name -- and she gave CMT a rare glimpse into how she put it all together.
CMT Hot 20 sat down with Parton for a special one-hour episode called "Dolly & Friends: Making of a Soundtrack." It premieres on Thursday night (Nov. 29) at 9 pm ET/PT.
Parton worked with producer Linda Perry, and had artists like Miranda Lambert, Alison Krauss, Elle King, Macy Gray, Mavis Staples and Rhonda Vincent join her on the album's tracks, some classic and some brand new. Even the movie's star Jennifer Aniston joined forces with Parton on "Push and Pull."
"I'm excited that folks will be able to see some of the wonderful moments Linda Perry, the amazing vocalists and I shared together behind the scenes of the Dumplin' soundtrack," Parton told CMT. "Singing with all these female artists was a joy and an honor, and, Linda and I, even though we are so different, we're almost totally alike on a creative level –- we all worked really well together."
The Hot 20 episode will feature interviews with Parton's collaborators, such as Lambert talking about the very first time she met Parton. The soundtrack will be released on Nov. 30, and Dumplin' will premiere in select theaters and on Netflix on Dec. 7.
Click below to hear one of the many stories Parton shared with CMT, like the one about that Halloween night when she lost a Dolly Parton lookalike contest.