Boy Named Banjo Doesn't Fit in a Box, Releases "Heart In Motion" That Was Inspired By a Defeated Roadtrip
"Heart in Motion" is out now, and Boy Named Banjo said that if there is a single song that represents what the band is – "Heart In Motion" is it.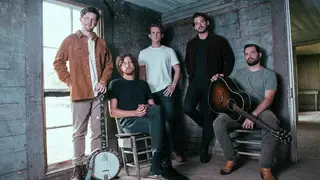 Nashville-raised band Boy Named Banjo has been together in some formation since high school. But, it wasn't until the start of the pandemic that their career got the major label boost it needed.
The band signed its deal with Universal Music Group Nashville over Zoom in the Spring of 2020. They released their song "Circles" the same year, but members believe their new single "Heart In Motion" is their first real shot at recognition.
"We truly didn't really know many people on our team," explained Boy Named Banjo singer Barton Davies. "We just threw that music out there to see what would happen. Whereas this one, I think we've put a lot more thinking behind it and push behind it, which is really exciting for us."
"Heart in Motion" is out now, and Davies said that if there is a single song that represents what the band is – "Heart In Motion" is it.
"We have a lot of different elements to our music that doesn't necessarily fit inside of a specific box," Davies said. "I think it's the same with 'Heart In Motion.' We have country storytelling, anthemic choruses, harmonies, soaring vocals, banjo and drums. We really made an effort with 'Heart In Motion' to emphasize that we're a band and not just one person. So, everyone steps out and gets to step into the limelight a little bit with this one."
Davies said the members of Boy Named Banjo were trying to honor their style, and he hopes people will connect with the music they love to make.
"We're not trying to chase anything or follow anybody," he said. "We're trying to carve our own sound and carve our own path."
The band wrote "Heart in Motion" during a cross-country trip back home when the pandemic forced them to cancel tour dates. It was the band's first tour dates on the west coast. The entire tour had to be canceled, and members drove 34 hours back to Nashville.
"I just remember sitting in the van really wishing I was back home with my wife, and we felt the same way," he said. "So we sped across the country, just ripping back to Nashville, back to our loved ones."
After the band got home, Davis said he was processing the journey, and the "crazy ride back home" when the first line of the chorus popped into his head. The melody came to him in the shower.
"I had to scramble out of the shower to record that voice memo on my phone," he said.
Davies took it to a couple of friends the next day, and he said they "wrote the heck out of it."
As for what is next for the band, they are on tour with Kip Moore and are looking forward to releasing more new music.
"Our band is not like anything you've ever heard before," Davies said. "A lot of people tell us that they can't put us in the box. We definitely fit in the envelope of country, but we're really trying to push that envelope as much as we can. We're trying to emphasize everyone has their time to shine. It's not about one person. It's not about any sort of ego. We're family."