WATCH: Jelly Roll And His Daughter Surprise Fans With A Live Performance Of "Tears Could Talk"
Jelly Roll's daughter Bailee Ann is following in her father's footsteps – check it out!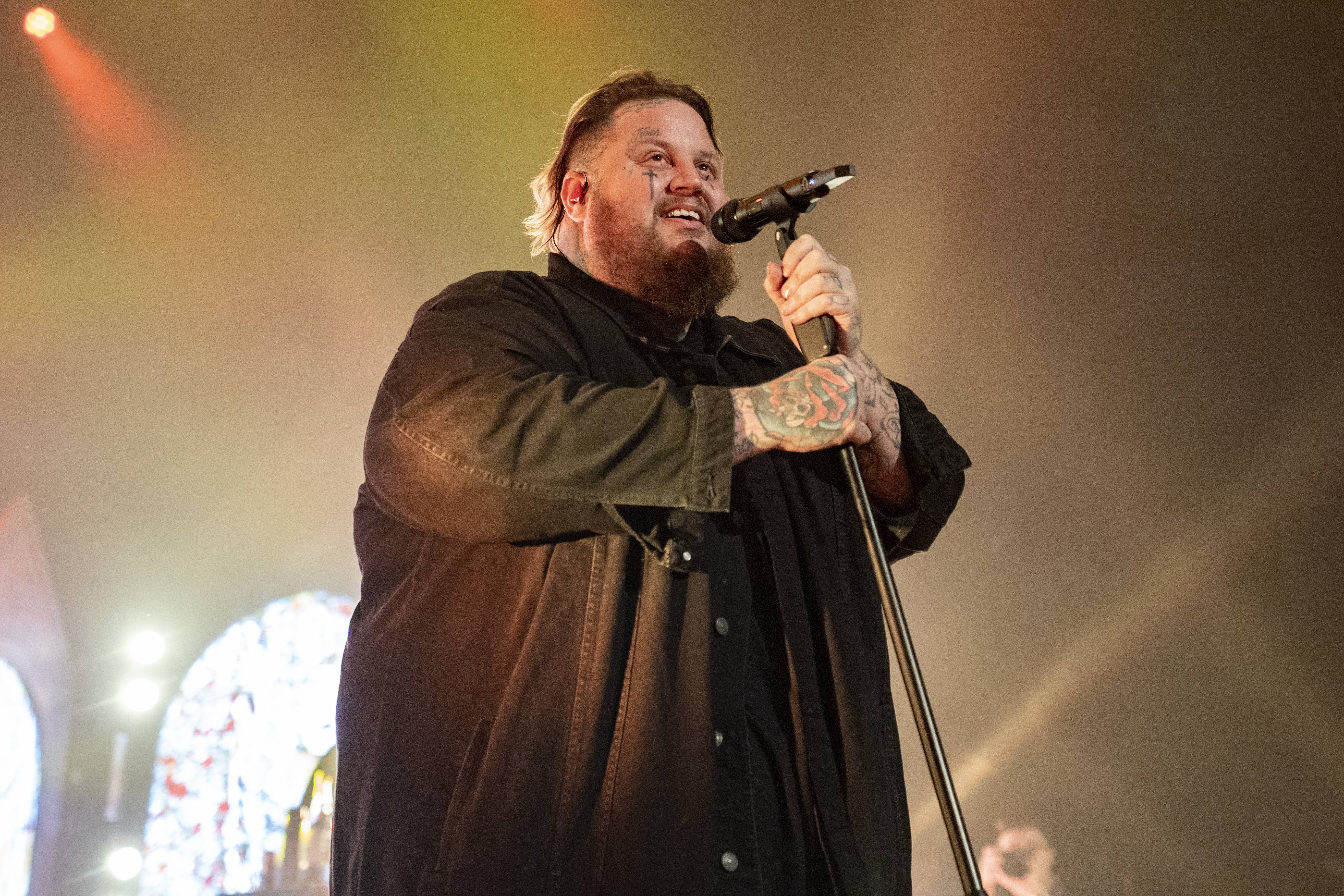 Country-rock artist Jelly Roll is always full of surprises. 
The "Son Of The Dirty South " singer is currently out on the road, and during a previous performance in Houston, TX, the family man pulled his loving wife Bunnie DeFord and daughter Bailee Ann on stage. 
Before the 37-year-old hitmaker welcomed the two to the spotlight, he asked the boisterous crowd for permission. 
"If y'all don't mind, I'm about to do something different from anything I've done on this whole tour. Is that okay with y'all?" he declared. "You see, I've been gone from home for like 35 days today. And the most important people in my life. I miss them more than I could ever imagine – my wife and my daughter are here." 
DeFord [Bunnie XO]  ran out from side stage and planted a big smooch on her husband. With his arm tightly wrapped around her waist, Jelly Roll announced his 14-year-old daughter to concert-goers. Fans within the Cynthia Woods Mitchell Pavilion erupted and cheered on the young songstress, as she joined her parents. 
"You see, we've got a lot of history here," the vocalist pointed out. "My wife was born in Houston, Texas." 
Following the backstory, the father-daughter duo plunged into their duet, "Tears Could Talk." The collaboration is featured on Jelly Roll's 2020 album "A Beautiful Disaster." The 12-song collection leans more alternative rap, and includes tracks with Brix, Lil Wyte, Struggle Jennings, Brianna Harness, Krizz Kaliko, and more. 
The genre-transcending artist sang the first verse, laying down the foundation of the upbeat hit. Although Jelly Roll escorted Bailee to the front of the stage to deliver her verse, it seemed like she knew exactly how to grab the audience's attention. 
The teenager tackled the spit-fire lyrics with confidence, displaying her superstar potential. As she navigated the limelight, Jelly Roll admired her astonishing talents from afar with a beaming smile on his face. 
Following the electrifying solo, the proud father and Bailee joined forces on the chorus and intertwined their robust vocals. Before Bailee returned backstage, the two shared a warm embrace and she waved goodbye. 
Jelly Roll and his wife recently celebrated their sixth wedding anniversary. The singer-songwriter mentioned that Bunnie turned him into the man he is today and thanked her for being a supportive stepmom to his daughter. 
"This woman has truly changed my life in every way possible. She truly changed the lens in which I see life through. These last 6 years have been a testament of the growth two rebels can make when they bring the best out of each other and push each other to the next level. Thank you for coming into my life and calming the storm," he said. "Thank you for raising Bailee as if she was your own." 
The heavily tatted singer was only 14 years old when he started making questionable decisions, leaving him and out of the juvenile justice system. Jelly Roll only recently shared his story, and his vulnerability was effortlessly pushed to the forefront in his 2021 hit "Sons Of A Sinner." The resilient musician also credits his daughter for altering the trajectory of his life. 
While serving time, Jelly Roll discovered that he was becoming a dad. After he was released, he knew he needed to change his ways to care for his little one. 
"She's not 14, and I knew I had to change my life," he told Audacy's 'I'm Listening.' "I started selling CDs out of the trunk of my car and t-shirts and throwing local concerts and doing anything I could to not revert back to a life of crime to provide for her." 
With a fresh mindset and new lifestyle, the chart-topping artist plans to use his powerful platform and voice to help at-risk children. He is set to take Nashville's Bridgestone Arena on Dec. 9, 2022, for a benefit concert. 100 percent of the proceeds will go towards building a music center for a local juvenile detention facility. The friendly giant will match the profits with his own money. For more information and appearances, visit jellyroll615.com.