CMT ARTISTS OF THE YEAR: Carly Pearce Honors Loretta Lynn, Struggles To Believe This Is Her Life
2022 CMT ARTISTS OF THE YEAR will premiere 9p/8c Friday, Oct. 14 on CMT. Other honorees include Walker Hayes, Kane Brown, Cody Johnson and Luke Combs.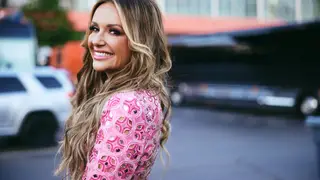 Carly Pearce, who will be honored next week at CMT's ARTISTS OF THE YEAR event, took a moment to pay homage to Loretta Lynn at the Opry on Tuesday night. Lynn died in her sleep Tuesday at her home in Hurricane Mills, Tennessee, and when Pearce stepped into the Opry's hallowed circle later that night, she couldn't help but share her favorite memories of Lynn.
"We absolutely lost one of the greatest that there ever was, and will be," Pearce said before she sang Dear Miss Loretta." "And as I stand here tonight, I feel overwhelmed with just the legacy and the beauty that she is, and she was. She heard me, which is quite crazy to me. I played this song on the Opry stage. I debuted it, just like I'm going to do it tonight. Loretta happened to be watching the livestream of the Grand Ole Opry and heard me sing this song."
Following Pearce's original performance of the song, Lynn left her fellow Kentucky native a voicemail that Pearce opted to share with the audience Tuesday night. 
"Hi, Carly. This is Loretta, honey," she said. "I'm laying here in bed, just taking it easy. I'm fixin' to get up and try to wash my face maybe and comb my hair. But anyway, I love your song. Thank you, sweetheart. I love you, honey. Come and see me some time."
Pearce said she received the voicemail last year and thinks it captures "the purist form and the essence of her beautiful soul."
Next week, Pearce's accomplishments will be in the spotlight when CMT honors Pearce at its 2022 CMT ARTISTS OF THE YEAR, that will premiere Friday, October 14 at 9p/8c on CMT. Other honorees include Walker Hayes, Kane Brown, Cody Johnson and Luke Combs. Alan Jackson will be named "Artist of a Lifetime" at the event. 
Pearce said she still struggles to believe the validation she's receiving from her peers and the country music community is real.
"It's kind of hard to believe," Pearce said, seated in a studio at CMT offices in Nashville. "It takes me a really long time to process that -- this is my life. And I know that sounds really cliche, but it just really is everything that I ever wanted."
Pearce, who got her start singing at Dollywood in Pigeon Forge, Tennessee, and nabbed her first No. 1 hit with "Every Little Thing" in 2018, is the reigning CMA and ACM Female Vocalist of the Year. She said those wins let her know she really does "have a seat at the table" in country music. 
"That was the greatest moment of my life, truly," Pearce said of winning CMA Female Vocalist of the Year. "I had dreamt and fantasized about that since I was probably 5 years old, watching every other female artist that has won it since then. I have a hard time composing myself or acting in a way other than just how I'm feeling. I will never forget the moment of sitting … it will forever be ingrained in my head. When I heard Amy Grant and Lauren Daigle say 'Ca,' and I knew there was no other Ca." 
Pearce said her whole world stopped in that moment and that she wishes everyone could experience what that feels like. 
"I can't explain how much it means to me," she said. "I think that no matter if I win it again at some point or I don't, that can never be taken away from me. It will forever be one of the greatest honors that I will ever have in my life." 
If someone told Pearce in 2020 that this is what her life would look like two years later, she wouldn't have believed them. Her personal and professional lives were in turmoil. Her marriage to fellow country singer Michael Ray was over and Busby, her most trusted musical collaborator, had died. She felt like her life was over. 
"That was the lowest moment of my life of going, 'I truly don't know that I can overcome this one,'" she said. "I wrote that album ('29: Written in Stone') out of survival, really. I was just kind of going, 'Whoa, I don't really know what music looks like without my partner. Let's just do what I want to do, and we'll see what happens.'"
Now she recognizes her life is "so much greater."
"I wish everybody who went through struggles could see their pain used for purpose in the way that I have because it is the most fulfilling," she said. "Is this life wonderful and awards wonderful and having hit songs wonderful and getting fancy clothes? Yes, but those true moments where I see the pain that I went through completely go full circle for somebody else that's maybe in the middle of it; that is why I do this. And I never knew that I could have that kind of a relationship with fans until I went through the hardest thing that I probably will ever go through."
Her CMT ARTISTS OF THE YEAR inclusion is the fulfillment of another goal and further validation to Pearce that she's making music that matters. 
"I wanted to have a year that mattered so much that (CMT) felt like I was worthy to get that," she said. "And for it to be at kind of the end of the '29' era, for me, it feels extra special. It gives me just great joy that all of these things have happened to me -- that people feel like the music that I have made and the last 12 months of my life is deserving of something like that. And it really is gonna be a moment for me to just really soak it in."
Pearce explained that she's constantly worrying about her next professional steps and plans to use CMT ARTISTS OF THE YEAR as an opportunity to reflect and understand what the last 12 months have meant to her. 
"They've been super validating," she said. "They've been validating that my instincts as a woman, my instincts as an artist, my instincts in production, in songwriting and the way that I've built a team, the way that I've built my brand, the way that I've made all of these decisions, it was the right way. Because when I lay down at night, I am exactly the artist I wanted to be. I don't know that everybody gets to say that in this industry. I've fallen apart and come back together times 12 in front of everybody. People have seen a side of me, and they've loved me more for that."