PHOTOS: Cole Swindell Pens Heartfelt Birthday Tribute To Girlfriend And Promises "Best Year Yet"
Cole Swindell and girlfriend Courtney Little prove that they are country music's hottest couple.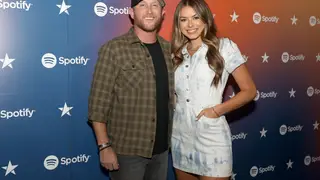 Cole Swindell is on cloud nine with his girlfriend, Courtney Little. 
The "How Is She" singer jumped on social media recently to wish his other half a happy birthday. To go along with the heartfelt tribute, the platinum-selling artist shared a string of snapshots that captures their relationship. 
"HAPPYYYYY BIRRRRTTHDAAYYYY TOO YOUUUU! This is gonna be your best year yet... it's already been MY best one just having you in it," wrote Swindell in the caption. "So thankful for you, your love for Jesus & coffee! Celebration starts now," he cued. 
While many country music fans flooded the comment section with kind messages, others dubbed the two as "couple goals." 
"Name a hotter couple…I'LL WAIT 😍" gushed radio personality Ania Hammar. "She's the best! HBD QUEEN @courtney0little," said a follower. "Power couple!!!" added another. 
The post includes a breathtaking black-and-white headshot of Little, a selfie from a recent trip to Universal Studios,  a backstage moment at Swindell's Down to the Bar Tour, and the two sharing a quick kiss on the hot pink carpet at the 2022 CMT Music Awards. 
Swindell and his lovely lady have an unusual love story. 
Although sparks began to fly while filming his "Some Habits" music video together, they first crossed paths at a NASCAR race. Little was 2017 Miss Teen North Carolina and a former NBA dancer. Now, she's the co-owner of The Little Sisters Boutique, a retail shop that sells affordable clothing. 
"We met several years ago, actually. You know, I'm a big NASCAR fan and she works with Monster and you know we just kind of met and exchanged numbers and kept in touch over the years," the hitmaker told The Bobby Bones Show. "It never was anything just kind of friends, randomly saw her here and there, but the video kind of changed everything," Swindell pointed out. 
The award-winning artist shared with ET, that he has been waiting for a girl like Little for quite some time. 
"I've waited a long time for this," Swindell declared. "This is the best feeling in the world."
Swindell is currently out on the road delivering dance-worthy songs from the recent release and fan favorites from his impressive catalog. Nashville newcomers Ashley Cooke and Dylan Marlowe serve as direct support for select dates. Tickets are available for purchase, here.