Meet CMT Artist Discovery's Sammy Arriaga, Hannah Bethel, Emily Ann Roberts and Nick Wayne
Artist Discovery Program Grows with Four Rising Acts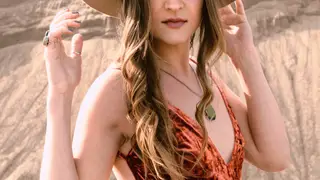 The next round of CMT's artist discovery videos addresses various themes on the universal feeling of love.
Arriaga takes on the theme of naming everything one shouldn't do and doing it anyway. Directed by Dylan Rucker, the video follows the development of a relationship from beginning to end with some dark twists toward the conclusion.
Hometown: Houghton, Mich.
Bethel's unbridled spirit is on full display in "Train," an original she co-wrote with her sister, Wynter Bethel. The song was written as Hannah was coming out of a long-term relationship after realizing each party was not giving it their all. "When I got the idea for 'Train,' I was in a relationship that was no longer serving either person's highest happiness, but we were best friends, and we had been together for years," Bethel tells CMT.com. "I knew that ending it would break both of our hearts, but staying would slowly suffocate our spirits. How do you choose between a broken heart and a squished spirit? Both of those sound terrible. I had this idea that if I were unbreakable, if I could keep moving forward without being pulled back by anything, I would have the clarity and strength to make the right decision." Dawson Waters directed the cinematic piece in the desert near Balmorhea, Texas, and Bethel performs all her own stunts next to the speeding train. She will perform various shows in Nashville with her band the Gypsy Queens through the remainder of the year with a full tour schedule set for 2019.
Emily Ann Roberts "I've Got Forever"
Hometown: Knoxville, Tenn.
Roberts has soaring pipes that cut to the core. Co-written with Jason Saenz and Heather Morgan, "I've Got Forever" artfully showcases haunting melodies that uplift the storyline about a forever love inspired by her longtime relationship with her high school sweetheart. "We met in Spanish class in high school," Roberts tells CMT.com. "Chris was very shy, but I could tell we had a lot in common. After dating for a while, I knew there was something different about him and that we had the potential to have a forever kind of love. This song was inspired by our relationship and takes you on the journey of seeing that special someone for the first time, falling for them and then realizing that no matter what happens you will spend forever loving that person." More music and new shows are in the works for 2019.
Nick Wayne "If You Ever Wanna"
Hometown: Nashville, Tenn.
Wayne's "If You Ever Wanna" is the result of musical telepathy with his co-writer Justin Ebach. Ebach had the initial cadence, but it was Wayne who heard the initial hook in his messing around with the initial structure. "Justin was banging around on the piano and started singing that fast cadence over the chords," Wayne recalls. "I heard 'If You Ever Wanna' from his gibberish. That's something that is invaluable to me in a co-writing relationship -- translating each other's gibberish. The song took off from there. It's my personality in a song in the sense that I hate making people uncomfortable; especially in a first date scenario. 'I wanna go out with you if you wanna go out with me, but I'm kind of asking if you wanna go out because I wanna go out with you; but don't say yes if you don't want to.' It's exhausting." "If You Wanna" is part of a digital two-song, digital 45 with "Two Sides." That's Wayne's vintage Camaro in the video, which was shot at his father's cabin in Readyville, Tenn.