Carly Pearce Celebrates 100th Opry Performance With Ashley McBryde, Ricky Skaggs, Charles Kelley and More
Carly Pearce: "I've always said Carrie Underwood is my inspiration for the way that she cares about the Opry."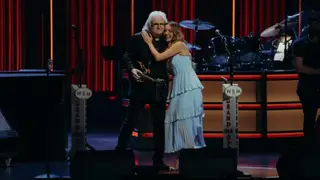 Carly Pearce and the Grand Ole Opry celebrated her 100th Opry performance on Tuesday night with a host of memorable performances and nearly as many commemorative plaques.
"This is a big night, guys," Pearce told the audience. "This is my 100th performance, and it makes me so happy."
Before Pearce took the spotlight, Big Machine Label Group, RIAA and Opry Entertainment surprised her backstage with plaques to mark: her most recent No. 1 song, "What He Didn't Do"; her 100th Opry performance; the three-times platinum status of "I Hope You're Happy Now"; and one spanning multiple career accomplishments including her four ACM Awards, three CMA Awards, 2022 CMT honor for Artist of the Year, four No. 1 country radio singles, various RIAA certifications, more than 2 billion global streams and more.
"You've given us 99 incredible performances to date," said Dan Rogers, vice president and executive producer of the Grand Ole Opry. "Carly is everything we talk about and look for in a Grand Ole Opry member in that she was so good to us before Dolly Parton said, 'You should be a Grand Ole Opry member.' And she's been just as great to us after as her star has risen."
As a large crowd gathered around Pearce in the spacious, comfortable green room just a few steps from the Opry's famous curtain, the singer explained she knows her star is rising because of her team.
"There's a lot of people here who worked really hard for me," she said. "I know it's my name on whatever it is. I'm just really grateful. I feel like I get to work with the best people in the whole world. Thank you for having a passion for the music I make."
The Kentucky native made her Grand Ole Opry in 2015. Her 100th performance – with special guests including Ricky Skaggs, The Isaacs, Ashley McBryde and Lady A's Charles Kelley - is set to air on Opry Live on Circle Network Saturday, April 22 at 9/8c p.m.
Ben and Sonja Isaacs from The Isaacs were Pearce's first special guests. She said she grew up emulating Sonja Isaacs' voice and recorded "Easy Going" with the group for her "29: Written In Stone." Tuesday night was the first time they could perform the song together on the Opry stage. McBryde joined Pearce for their award-winning hit "Never Wanted to Be That Girl." Fellow Kentucky native Ricky Skaggs – who inducted Pearce into the Kentucky Music Hall of Fame last year – joined her for a version of Bill Monroe's "Blue Moon of Kentucky." Kelley sang with Pearce o her breakthrough hit "I Hope You're Happy Now."
The experience is a far cry from her Opry debut in 2015. Pearce said she was still cleaning short-term rental properties and didn't have a record deal the first time she stepped into the Opry's famous circle.
"A 'made it moment' was playing The Grand Ole Opry, and I still felt so far away from my dreams," she said. "I remember literally thinking I was going to throw up right before. I thought, 'I'm not sure if I can physically do this.' It really was all of my dreams coming true. I didn't throw up, thank God. And I still haven't thrown up on the stage, but it was the most magical. I remember walking out and just putting my hands in the circle."
Pearce looks forward to playing the famous stage for the rest of her life.
"I've always said Carrie Underwood is my inspiration for the way that she cares about the Opry and for the way that she has made it part of her platform and who she is," Pearce said. "I hope the Opry knows at this point that I feel responsible to be one of the ladies in the next generation that carries the torch. Preserving this place is so special to me. Every person that has ever mattered in country music played here, and that's important to me."