CMT Roundup: New Music From Brian Kelley, Halestorm with Ashley McBryde, Conner Smith and More
Listen to CMT's round-up playlist of new music this holiday weekend in this story.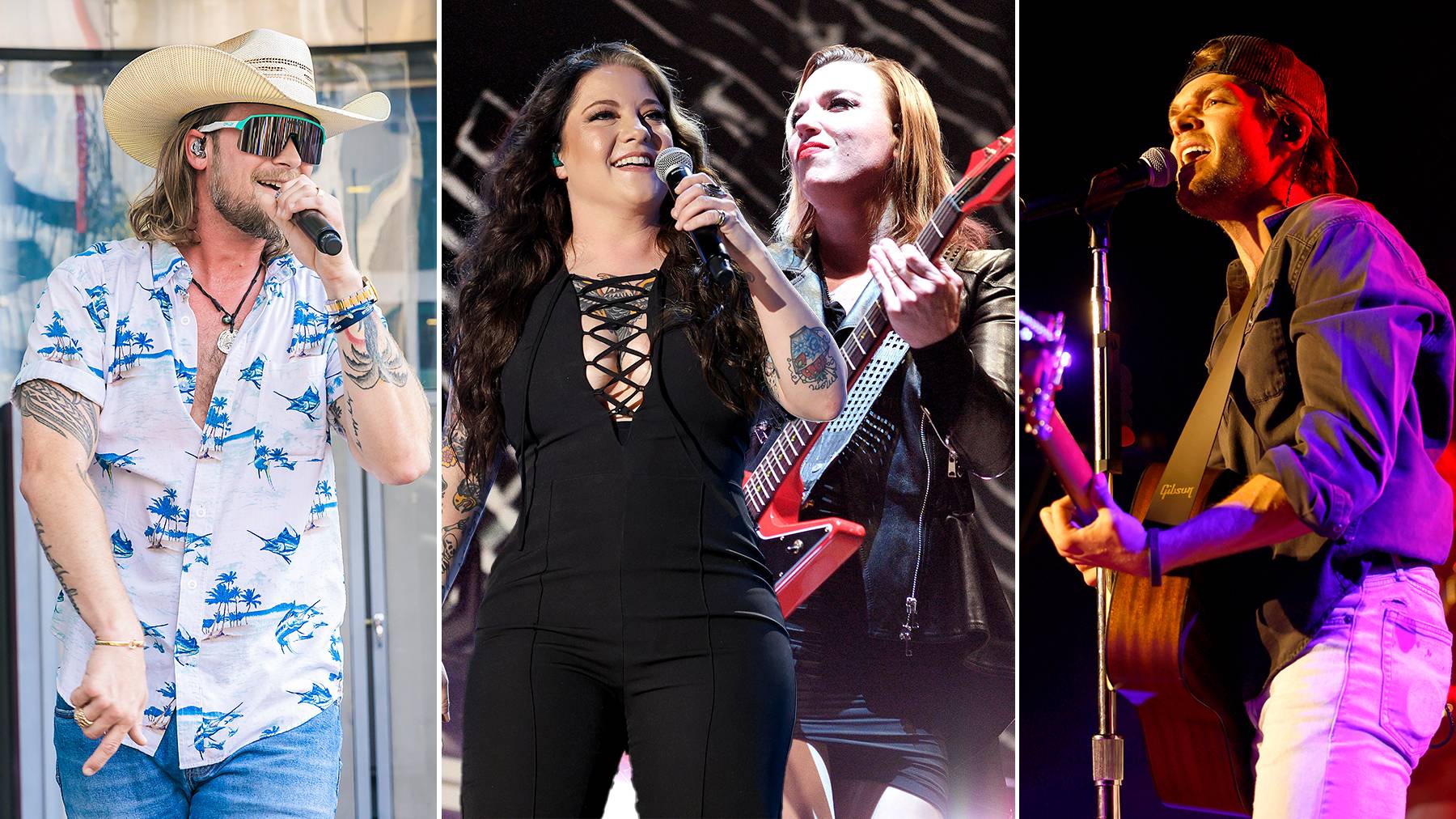 When it comes to new country music, it's a collaborative Memorial Day weekend! Dierks Bentley's hilarious '90s country group Hot Country Knights teamed with Lainey Wilson for the comedic "Herassmeant." Ashley McBryde joined Halestorm for "Terrible Things." James Barker Band paired with Dalton Dover for "On The Water." The Frontmen, which is a collaboration with Richie McDonald, formerly of Lonestar, Tim Rushlow, formerly of Little Texas, and Larry Stewart of Restless Heart, just put out their version of "Amazed" and new song honoring the military "Left Their Mark." To hear these songs and more, visit CMT's The Roundup playlist.
Hot Country Knights featuring Darla McFarland, "Herassmeant": "Yeah, seems like everybody is talking about harassment these days, and the Knights do not tolerate that stuff," said singer Doug Douglason. "You gotta treat your lady right, tell her how you feel about her, respect her, love on her.  My old flame Darla McFarland, who most people will remember from Teazers down in Murfreesboro, was itching to sing on this one.  She knew she was the inspiration, so how could we say no?  
Darla is the best damn country singer of the last three decades, in my opinion.  Everybody better get down to Tower Records before the CDs are sold out."
McFarland added: "Nothin' hits better in country music than authenticity. Seeing how I was the inspiration behind this song, I thought I'd help Doug make a good song great."
Ashley McBryde and Halestorm, "Terrible Things": "I've loved Halestorm for longer than I can remember," McBryde said. "I thought my team was messing with me when they said Lzzy asked if I wanted to sing on 'Terrible Things' with them. But it turns out they were being serious, so of course I said yes. I am so happy to be on this track with Lzzy. She's a phenomenal human being and someone I continue to look up to."
Jake Owen, "On The Boat Again": "One thing I think I've missed over the last few years is not giving country radio the songs that they really like," Owen said. "I think they're waiting for me to give them another summer Jake Owen song that feels good. They're like, 'Yes, this is you.' That's what this 'On The Boat Again' thing is."
Hannah Dasher, "Ugly Houses": "'Ugly Houses' is the most vulnerable song I've ever released," Dasher said. "God's been humbling me the past two years, doing a major renovation. Felt like I needed to share it with the world — especially during times like now. Whether listeners are believers or not, I hope this song leaves 'em in a better place than it found 'em."
Brian Kelley, "See You Next Summer": "When I first heard it, I was smiling the whole way through," Kelley said. "I've lived this song. It was striking chords all over my body; I felt it in my soul."
Josh Abbott Band, "My Dad and His Truck": "I can instantly picture my dad and both of the trucks he owned," Abbott said. "His '95 F-150 was the first brand new vehicle he ever bought. He was so proud, and now that I'm older, I can appreciate the sentiment and reflect on it. He worked so hard it brings me to tears when I think about the sacrifices he made. There were so many days he was gone before I woke up and then home at dinner. I wanted to write a song that compared him to his work trucks: their dependability, their toughness, their American spirit. The piano outro is special because our band member David Fralin had recently lost his father when we recorded. So that ending is a tip of the cap to him. Almost all of our songs throughout our career are personal to me, but songs like this one are even more so. I miss my dad so much; this one's for you, Dad."
The Frontmen, "Left Their Mark": "It's crazy to think a song that me and James Dean Hicks wrote over thirteen years ago now has a chance to touch some hearts and leave a mark on the world," McDonald said. "That's what I love about making music."
Conner Smith: "'How It Looks From Here' has been a fan favorite ever since we started playing it live," Smith said. "Any day that a new song gets into the hands of fans is special for me, and I'm excited to share this story with them."
James Barker Band with Dalton Dover, "On The Water": "Since day one of JBB, we've always loved good-time summer songs," Barker said. "We've released so many songs about beer that we figured maybe it was time to release a song about the second most important liquid of the summer – water. This song feels so cool because it touches on all the best parts of summer: fishing, swimming, chilling in a floaty, and above all, doing anything but working."
Craig Wayne Boyd, "Golden": "I sat down to write with my buddies Frank Maroney and Howard Jennings, and Frank started spitting out this idea. As most writers do, we all pulled from our own experiences, and fortunately, we were all in the same grateful mindset," Boyd said. "'Golden' is a driving down the highway at sunset jam, and I hope listeners get that every time they hear it."