CMT Roundup: New Music From Kameron Marlowe, Ingrid Andress and more
To listen to all of this Friday's new country songs, check out CMT's Roundup Playlist on Spotify.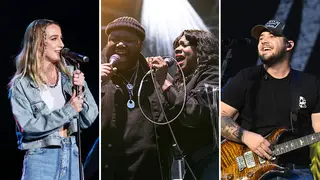 It's a week of new albums from some of country music's brightest new stars. Kameron Marlowe and Ingrid Andress both released new albums, as did Seaforth and A Thousand Horses. 
To hear more new music, visit CMT's Roundup Playlist on Spotify. 
Kameron Marlowe, "We Were Cowboys":  Kameron Marlowe released his debut album "We Were Cowboys" on Friday, complete with new song "Over Now." Written by Tucker Beathard and Jake Mitchell, "Over Now" is a moody mid-tempo anchored by Marlowe's masculine voice about doing everything it takes to make a relationship work.
Lyrics include: It is what it is and it ain't what it was|And this ain't me saying let's get back to us| This is loving you enough to tell you goodbye| 'Cause it's all we got left that we ain't yet tried|So let's start over now|Yeah, let's start over now
"We Were Cowboys" is a 16-song collection – nine of which were co-written by Marlowe. Other co-writers on the album include fellow artist Tyler Farr and award-winning songwriters Josh Osborne, Dan Isbell, Reid Isbell, and Casey Beathard.
"I wanted a body of work that resembles my life and upbringing," Marlowe says in a statement. "These songs were shaped with the different influences I grew up listening to (singers) such as Stevie Ray Vaughn, George Jones, Brooks & Dunn and Ray Charles. You will even hear some classic rock n' roll and some influences of early 2000's rock." 
 Brad Hill and Dann Huff produced the album, and Marlowe says his goal was to "create timeless songs that last forever."
"I truly feel confident we nailed that goal," he says. "As nervous as I am, I am also excited. I hope y'all enjoy this record."
Ingrid Andress, "Feel Like This" – Written by Ingrid Andress, Julia Michaels and Sam Ellis, "Feel Like This" is a piano-driven ballad that she turned into a lilting how-to chalked full of smart, simple ways to know what love is.
Lyrics include: Yeah, this feels like homemade cooking| Like backyard kissing| Like hold the door open and I laugh| But it's nice like Sunday sleepin' in| Baby, I'm leaning in| Conversations, I can tell that you're listening| I thought I knew what| I knew what love was
"When people describe something as an adventure, it's all fun and exciting," Andress says in a statement. "But if it's a real adventure, there's some struggle in there, too—it's not all fun new things. There can be some dark days. But the contrast of that is what I enjoy. Making 'Good Person' was one of the most painful processes I've ever been through, but it was also the brightest and the best. It's crazy how you can experience both those things at the same time. I didn't think I could be more open, but I guess I am. Just when you think you've exposed it all, you see that you only just cracked it."
Andress co-produced the project with Sam Ellis.
The War And Treaty, "That's How Love Is Made": Husband-and-wife duo The War And Treaty has placed their hearts on the line in label debut, "That's How Love Is Made." The powerhouse ensemble comprised of Michael and Tanya Trotter articulates the building blocks that make up a romantic relationship, while also highlighting toxic treats that can cause a negative domino effect. The bluesy ballad with a traditional country spark, is destined to send a chill down a listener's spine. Michael's buttery baritone vocals intertwined with Tanya's soaring pipes, flawlessly create a sonic blend that is refreshing and unique to the genre. 
"Treat you like a lover | We're Out on the town| 'Cause that ain't how love is made | That ain't how love is made | It's all or nothing | Gotta give to get something  | That's what it takes | That's how love is made," sings Michael displaying his soulful sound. "Can't Say I'm tired | When I don't ask for help | Can't want from your heaven | Giving you hell," Tanya belts with ease. 
The promising act changing country music's trajectory, penned the therapy session-like song alongside Dave Barnes. "That's How Love Is Made" serves as a preview to their highly-anticipated album, produced by GRAMMY Award-winner Dave Cobb. 
"I can't believe the day has come, and we finally get to let the world in on the secret that is 'That's How Love Is Made,' and we hope folks connect to it as much as we have. My prayer is that so much love is created through this song that eventually hate is drowned out. Let love be as creative as it wants in our friendships, in our business partnerships, in our neighborhood, and never put the chains on her...for she is meant to be free," says Michael. "My palms are sweaty, my knees are shaking, and I'm going crazy all because of the love we put into creating this song," added Tanya. 
HARDY and Lainey Wilson,  "Wait In The Truck": Country-rock artist HARDY recently (Aug. 26) released "Wait In The Truck," a chill-provoking single about domestic violence. The acoustic-driven melody includes a soul-stirring gospel chorus, featuring ACM New Female Artist of the Year Lainey Wilson. HARDY cultivated the rich narrative made up of razor-sharp lyrics alongside Hunter Phelps, Jordan Schmidt, and Renee Blair. 
"Well, she was bruised and broke from head to toe | With a tear in her blood-stained shirt | She didn't tell the whole truth, but she didn't have to |  I knew what had happened to her | I didn't load her down with questions |That girl had been through еnough | I just threw it in drive, looked in those eyes | And asked her where he was," sang HARDY with sorrow in his voice. "I don't know if he's angel | 'Cause angels don't do what he did |  He was hellbent to find the man behind | All the whiskey scars I hid |  I never thought my day of justice | Would come from a judge under his seat | But I knew right then I'd never get hit again when he said to me | 'Wait in the truck, Just wait in the truck,'" the two harmonize in the heart-wrenching chorus. 
Despite Hardy's long-running repertoire of award-winning hits, he believes "Wait In The Truck" is his best release yet. 
"'Wait In The truck,' my next single, is one of my favorite songs I've ever written - probably the best song I've ever written to be honest. It hit me so hard the first time I heard the demo back, and no other song had done that before. Very excited for the world to hear the song, excited for the song to give people a platform to maybe speak out about stuff that might be going on in their own homes. Thank you to Lainey Wilson for doing this song with me - she crushed it," HARDY explained. "I always love working with HARDY, but this track is extra special. I am so proud to be part of 'Wait In The Truck' because it's such a powerful song and story, and I really do think it will change lives," shared Wilson about the Joey Moi and Derek Wells' produced track.