LISTEN: Thomas Rhett Shares Preview Of Unreleased Ballad "God Made An Angel"
Thomas Rhett sparks speculations around "Country Again: Side B" and reveals why he wants to get his vocals "ripped."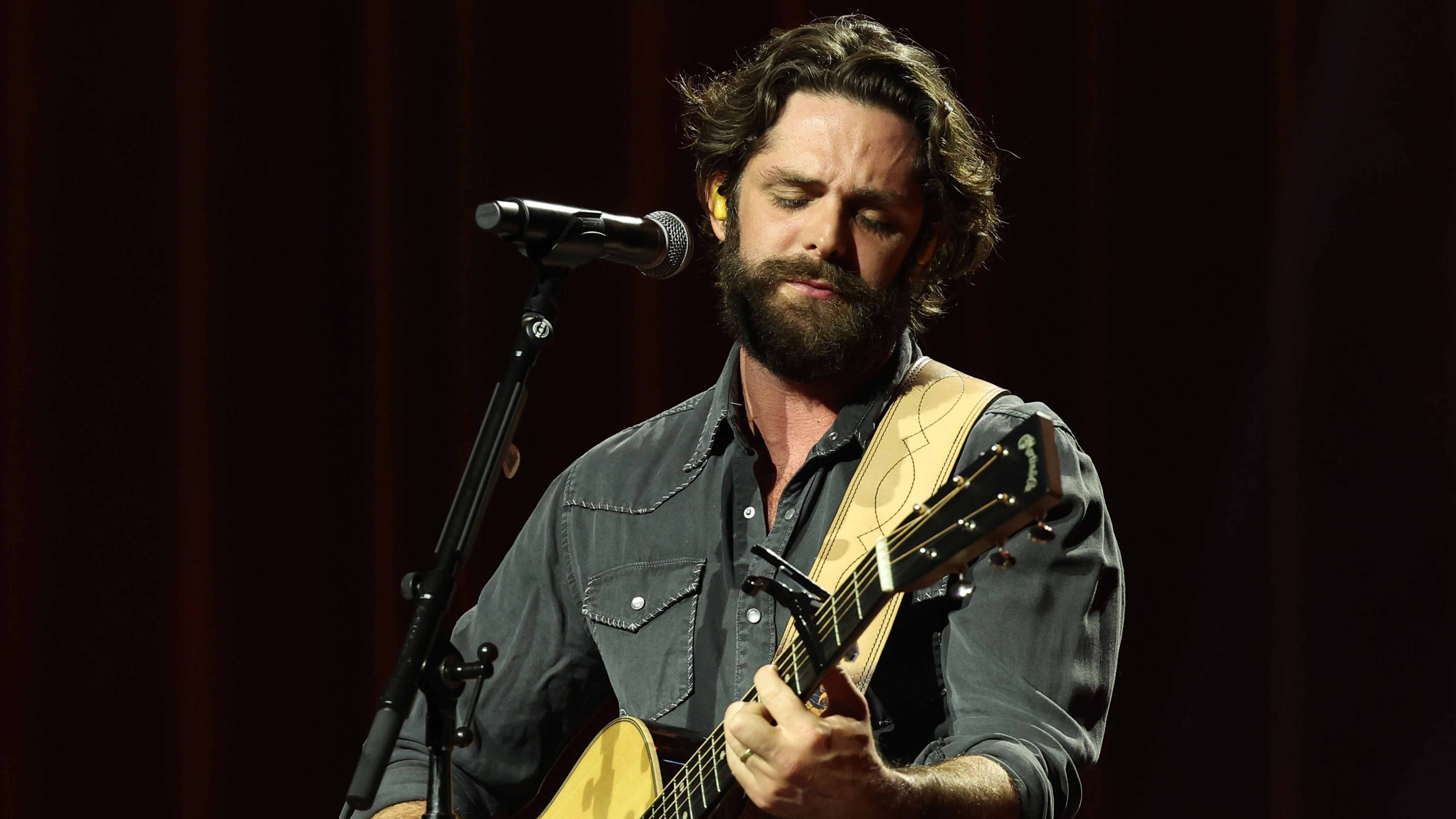 Thomas Rhett's creative wheels seem to never stop turning. The country music singer jumped on social media this week to tease an unreleased ballad titled "God Made An Angel." 
Rhett filmed himself inside his Tennessee home playing the vulnerable track on his piano. As he gets lost in the poignant lyrics, the singer effortlessly displays the tender vocals that his adoring fan base grew to love. 
"Haven't done a new one in a while… 'God made an angel,'" he wrote alongside the clip on Instagram. 
Within the eye-opening storyline, Rhett declares that the man upstairs also has a "plan" in store. While rattling off God's gifts, Rhett thanked him for making a special someone equivalent to an "angel." The country crooner did not reveal the songwriters behind the heavy narrative or the individual who served as the inspiration, but the mellow melody intertwined with the relatable message is destined to become a chart-climbing love song. 
"God made a cowboy and Montana in mind | He lit the moon and the stars, so the backroad could shine," he sang, showcasing his crystal clear pipes. "He snapped his fingers, and a country boy's dream came true | When God made an angel, I think he was thinking of you." 
Fans flocked to the comments to encourage the hitmaker to release the sentimental single sooner than later. While many praised the heartfelt song, others wondered if another album is on the horizon. 
"Another #1 right there!!!❤️," said a listener. "Keep the new songs coming🔥," shared a follower. "Country Side B, confirmed soon?" another one pointed out. 
"Side B does have a few different progressive things on there, but for the most part, man, I just wanted to sit down and tell some really honest stories," TR shared during his 'Country Again: Side A' album release party. "And that's where a lot of these songs came from. So, for me, even though this feels like going backwards, I think going back to how I originally started in this career is progressive for me. So it felt very fresh to do that," he added. 
The multi-platinum artist has yet to confirm if "God Made An Angel" will be on "Country Again: Side B" or when the highly anticipated collection will be available to stream. While creating new music and honing in on his artistry, Rhett told Big Machine Label Group that his primary goal is to strengthen his vocal range. 
"From a vocal standpoint, I think I want to learn, in the same way you would want to like, get ripped in the gym, how to get your voice there, too," said Rhett. "Thursday and Fridays are always really easy for me, but Saturdays, I tend to wake up kinda strugglin', just kinda hoarse and kinda ratty. And I just kinda wanna learn this year how to just become a little more vocally, like my stamina to get better, if you will. It's just like workin' out any type of muscle, but learning how to breathe correctly and all that stuff." 
Although Rhett is an award-winning artist and is best known for collaborating with A-listers, he only recently enrolled in professional voice lessons. 
"I just started doing vocal lessons a couple of years ago," he confessed. "So, I think I've got a lot of stuff to learn." 
As Rhett diligently grows as a vocalist, he is slated to embark on his headlining Home Team Tour 23 in late May. The summer tour will kick off at Wells Fargo Arena in Iowa with Cole Swindell and breakout star Nate Smith. The must-see show will wrap at Nashville's legendary Bridgestone Arena in September. Tickets are available for purchase, here.