Vince Gill And Paul Franklin Talk "Sweet Memories: The Music of Ray Price & The Cherokee Cowboys": There's No Comparison Allowed
Vince Gill: "The obvious thing that people are going to, unfortunately, say when they hear something like this, 'Oh, it's not as good as the original.' That's not the point."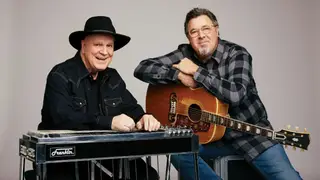 One decade ago in country music, Kellie Pickler won "Dancing with the Stars," George Jones passed away while bro-country was making headlines, Keith Urban joined "American Idol," and Vince Gill and Paul Franklin released their debut duets album "Bakersfield," an homage to the music of Buck Owens and Merle Haggard. Today, bro-country is a dirty word in country music. Luke Bryan replaced Urban on "American Idol." Pickler still has her mirror ball trophy. And Gill and Franklin are ready with their next highly anticipated collaborative project – this one honoring Ray Price.
"Sweet Memories: The Music of Ray Price & The Cherokee Cowboys" is available now and features the Country Music Hall of Famer and the Steel Guitar icon sharing their reimagined version of Price's songs, including "One More Time," "I'd Fight The World," "Danny Boy" and "Kissing Your Picture (Is So Cold)."
Seated on a tufted couch in Gill's Nashville home recording studio, surrounded by a selection of guitars and Gill's 22 Grammy trophies, the longtime friends shared their process, progress, pitfalls and inspiration while creating "Sweet Memories: The Music of Ray Price & The Cherokee Cowboys.
"On this album, Vince and his longtime collaborator Paul Franklin's reverence for the legacy of Ray Price and all of country music is beautifully showcased," said Lori Christian, Executive Vice President of Marketing at Gill's label, Universal Music Group Nashville. "They are bringing Price's music to a whole new generation."
When the players dreamed up the collaborative concept over a decade ago, Gill and Franklin set some parameters. They only wanted to cover artists to whom they had a personal connection. They wanted to pay tribute to two artists on each album, with half the songs going to each. They considered George Jones, Conway Twitty, Jimmy Dickens, Owens, Haggard and Price. And they never wanted to highlight each artist's biggest hits, instead choosing to lean into songs Gill and Price considered overlooked but brilliant.
"With 'Bakersfield,' it was hard to find obscure Merle Haggard songs," Franklin explained. "In talking about this, we wanted to do the stuff that people didn't expect."
The men didn't suffer the same stumbling blocks with "Sweet Memories." As they dove into the listening process, Gill quickly discovered that he wanted to dedicate an entire album to Price's little-heard sonic gems.
"We kept finding songs, and I said, 'Let's just do it all Ray,'" Gill said. "Paul said, 'Man, it's good with me.' So, away we went."
WSM radio personality Eddie Stubbs often served as their historian and guide on "Sweet Memories." Gill called Stubbs from Australia while he was on tour with The Eagles when Stubbs played a song he'd never heard before. Gill remembers he asked, "What in the Hell is this? Who is that? Why have I never heard it?" Gill made a habit of calling Stubbs, asking him to play something he'd never heard before. Stubbs obliged, and Gill took notes. Then when it came time to solidify the track list for their Ray Price album, he and Franklin sat down with lists of more than 100 songs. They wanted songs showcasing their instrumental skills that could be reimagined and elevated by their licks. The men sorted and critiqued each selection until they landed on the 11 tracks they recorded.
"I'm a Ray Price fiend, but I never knew he did 'Sweet Memories,'" Gill said. "I never knew he'd done 'Weary Blues,' a Hank Williams song. Several of these things I never knew. It was fun to find that out."
Leaning back into his couch with a proud grin, Gill said people were often surprised at their obscure song choices, but that part of their goal was to aid in music discovery.
"I've talked to people that have known Ray Price for their whole lives," Gill said. "They say, 'I never heard him do that one. I never heard him do that one.' We've stumped some pretty big knowledgeable folks with their Ray Price knowledge."
Gill is also pleased that he and Franklin incorporated songs written by classic country royalty that, in addition to Price, includes Hank Cochran, Hank Williams, Sr., Marty Robbins, Mel Tillis and Willie Nelson.
Just as Gill and Franklin were getting their second collaboration moving forward in 2019, COVID-19 struck and stalled the project – the main reason there are 10 years between albums. They used the extra time to hone ideas for the collection. They listened closely to melodies along with the lyrics, and Franklin said he reveled in the nostalgia that came with it. While Franklin didn't grow up listening to these exact songs, he did live in the same era of musicianship. Recording "Sweet Memories" transported them back decades and enabled them to insert their influences into the classic songs.
Gill and Franklin enjoy creating tribute projects because it's an opportunity to remember the musical artistry that made them want to be musicians. Franklin calls it the "satisfaction of revisiting an old memory." Gill considers "Sweet Memories" as much of a musician's album as it is a singer's album.
"I'll sing, and then we'll get to play," he said. "That was kind of the mindset behind it all."
Gill and fellow Country Music Hall of Famer Ricky Skaggs are renowned guitarists and have been friends for decades. Skaggs joked that artists collaborated at this stage in their career because they get tired of listening to their own guitar licks. On a more serious note, he explained that collaborative projects help artists learn more about themselves, the music and each other.
"When you do collaborations, you always come out with more than you than you went in with," said Skaggs, who often plays with Bruce Hornsby.  Skaggs honored Gill on his CMT Giants special last year. "It's really an eye-opening experience, but certainly an ear-opening experience, too. You just come away loving the person even more, knowing that you made something very beautiful and long-lasting."
Their ears had to be open, Gill said, because that's all he and Franklin could trust to lead them in the right direction. The hardest part for the men is knowing people will listen to "Sweet Memories: The Music of Ray Price & The Cherokee Cowboys" and compare their versions to Price's originals. That isn't the point of the project.
"The obvious thing that people are going to, unfortunately, say when they hear something like this, 'Oh, it's not as good as the original,'" he said. "They'll say, 'I like the original way better. I like the melody of the original way better.' This is just intended to be inspired by us to begin with."
Gill also knows that some people will think he and Franklin are arrogant for covering the songs because they mistakenly believe the men thought they could do them better. But that was never the point, either.
"These are a lot of things that we love," he said. "I think the audience that's our age and older, they're going to love this stuff. That's a given because they don't get to hear much music like this anymore. It's just not quite the flavor of the day like it was in its day. They may also be the ones that are the most crusty. I've heard it and seen it in comment sections a million times, and they just miss the point. The intention behind this is reverence."