Kat & Alex Releases Self-Titled EP In Honor Of Hispanic Heritage Month: "The Project Is A Melting Pot"
Kat & Alex drops "Side A" of their self-titled EP – Listen!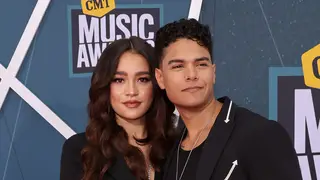 Husband-and-wife duo Kat & Alex are ringing in Hispanic Heritage Month, with their self-titled EP. 
Country-Latin performer Freddy Fender paved a path for musicians like Kat & Alex, The Mavericks, and Rick Trevino. The genre-bending ensemble known for their signature harmonizes and bilingual tracks, primary motive is to continue the legacy Fender left and carry the baton to see more representation within the honky tonk landscape. 
"We have big dreams and want to make music that touches everybody," explained the 'American Idol' alums. "That's our mission, and we're excited to see the integration of the Latin culture in country music, which is happening already and has happened before," they added. 
When cultivating the collection, they recalled seeing "Lado A" and "Lado B" [translation: 'Side A' and 'Side B'] on their parents' albums growing up. The core memory placed their creative wheels in motion, and the fast-rising stars decided to split their highly anticipated project in half to reach both English and Spanish speakers. "Side A" includes their heartwarming track "We Bought A House," "5 On a Friday," and a Spanglish version of "I Want It All."  
"Sonically, the project is a melting pot…introducing two different worlds," said Kat & Alex upon release. "You'll hear country, which is the root of it, as well as some rock, soul, and pop. The common theme of the music though is love, which is purposeful because our relationship is full of love and it's the core of everything we do."
The two had a hand in writing six of the seven tracks on the well-rounded collection. The pair picked up "Marry You," an outside cut penned by country sensation Maren Morris and Grammy-nominated writer-producer Busbee, who has lost his battle to brain cancer in 2019. 
The two explained that recording "Marry You" was a no-brainer, because they instantly resonated with the romantic storyline. The love song fell in the right hands, as their sizzling chemistry drives the track to new heights. 
"When we heard this song, we felt like it told our story, which was really cool because it was Maren's song to her husband, Ryan Hurd," shared the promising new act. "We reimagined it as a duet and added a bit of Latin drums to make it our own."
The Nashville-based musicians hope to bring the collection out on tour and hit Spanish-speaking countries. 
"We don't have an exact tour plan just yet, but shows are definitely going to happen," they exclusively told CMT. "We have a lot of hope for being able to travel in South America, Mexico, and really worldwide. When we get messages on TikTok, Instagram, or even meet people in person, they always express how excited they are to have music that they can show their grandparents or parents because it's in Spanish. Just to have Latinos being fans of country music and saying, 'we have country music in my language,' is really exciting." 
The couple confirmed that "Side B" will drop on Sept. 30 and will include five additional Spanish tracks. Following the release, the two will bring their astonishing talents to the Grand Ole Opry on Oct. 4. Tickets are available for purchase, here.