Dolly Parton Reveals The Name Of Her Rock & Roll Album And What It's Like To Be "Icon" Status
Dolly Parton declared that her Rock & Roll album would arrive "next year" and include a handful of collaborations.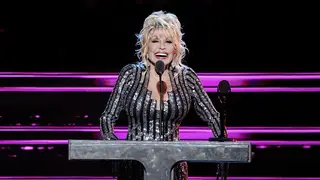 On the heels of her Rock & Roll Hall of Fame induction, the genre-transcending legend appeared (Dec. 1) on The Kelly Clarkson Show to discuss the highly anticipated collection and to acknowledge her "icon" status.
While sitting down with the EMMY-winning daytime host, Parton pulled out her eye-catching accolade that represents her spot in the 2022 class. The songstress was recognized in early November at a star-studded ceremony in Los Angeles. Parton initially rejected the nomination, but the Rock Hall proceeded with the voting process – despite Parton's humble request.
"I brought this for the show," said Parton while holding up the trophy. "I just wanna share this with you, until you get your own...and you will."
Clarkson fired back with doubt, but Parton assured the platinum-selling performer that she "will" receive the honor one day. Although the flattering comment tickled Clarkson, she stressed that individuals today overuse the word "icon" and should only refer to musicians like Parton with the weighted title.
"We throw around the word icon a lot," Clarkson pointed out. "Like I feel like everybody's an icon now. Everybody's like, 'oh…she's an icon.' I'm like, 'No. You have to earn that.' And you actually earned that, and that's why I loved your response 'cause you were like, 'well, wait what? Rock & Roll? I'm country music.' But you are Rock & Roll," she added, referring to Parton's statement to the organization in May.
She continued to rattle off reasons why Parton is not just a pioneer for women in country music, but throughout the entertainment industry. Clarkson asked the "Jolene" singer if the label rubs her a certain way.
"Well, I always think of myself more as an eyesore than an icon," Parton jokingly said. "Not actually. I used to think when I was young, if I made it like I'd hoped I would, how people would remember me when I was older. Now I'm older, and it's really nice to look back and think that I might have done something that's helped inspire."
Parton touched upon her recent accomplishment and how it plays a vital role in her legacy.
"When I got into the Rock And Roll Hall of Fame or when they talked about that, I didn't realize that it was more than just that," she said. "To me, I'd always thought about the Rock & Roll Hall of Fame being for people that spend their lives in rock music, like country music. I mean, you don't see Led Zeppelin in the Country Music Hall of Fame. So, when they first said that…I thought, 'well, I don't know that I belong there.' I didn't want to take votes from other people that spent their life, and that's kind of how I felt."
After wrapping her head around the nomination, Parton realized she had a place among the best.
"Later, I saw that it was for people also that have influenced other people," she recalled. "I did say I would accept it gracefully and humbly, and I did. I was very honored."
During the historic ceremony, Parton performed an unreleased track titled "Rockin' It" alongside Zac Brown Band. The electrifying hit paid homage to legends such as Elvis Presley and Jerry Lee Lewis, "icons" that were initiated into the Hall in '86. It also conveyed her personal story.
"I wrote a song for the show about my whole experience about that. It's called 'Rockin' It,' because I've been rocking it. I grew up lovin' Elvis and wild man Jerry Lee, Chuck Berry, Little Richard – they had all cast a spell on me. Carl Perkins and them 'Blue Suede Shoes' had no place on the farm."
After singing a verse of the unreleased track acapella, she confirmed the name of her forthcoming album – "Rockstar."
"A fun tongue-in-cheek," she declared about the title. "I'm actually, I'm doing classic songs.  I'm usin' a lot of the classic artists to sing on some of the songs with me. So, I'm looking forward to that."
The hitmaker did not reveal the collaborations but confirmed that the project will arrive "next year." The memorable induction previously aired on Nov. 19 on HBO and HBO Max.