Sun Sets on Love in Kacey Musgraves' "Space Cowboy" Video
Musgraves Joins Harry Styles' 2018 Tour June 5 in Dallas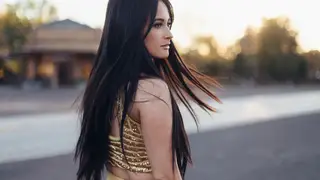 If we've learned anything from our time spent with Kacey Musgraves' masterful Golden Hour, it's to expect the unexpected on a brand new level with every move the Grammy-winner makes.
Consistently pushing the envelope, both visually and musically, Musgraves is perpetually ahead of the curve, and her raw and reflective new video for the song "Space Cowboy" is no exception.
Directed by Courtney Phillips, the soft focus and longing gaze of the video doesn't obscure the clear focus of the song's message: it may have been good at one time, but this relationship is now over for good. It's direct, it's visceral, and it's painful, despite the stunning aesthetic of each shot.
The final scene was the clincher for us: as the cowboy in question rides away, she gazes out the window, bathed in the remaining light of dusk while the dark clouds billow after him, implying that, although she's the one left behind, he's the one that will forever be chased and haunted by her memory.
Musgraves just wrapped up a performance at the Stagecoach music festival in Indio, Calif. She joins Harry Styles' 2018 tour on June 5 in Dallas, and she will make her Saturday Night Live debut on May 12. Her Oh, What a World Tour launches Oct. 21 overseas in Amsterdam.