Matt Stell Reveals His Secret To Radio Success And Why "One Of Us" Holds Sentimental Value
Matt Stell talks 17-city headlining 2022 Man Made Tour and what to expect from his interactive live shows.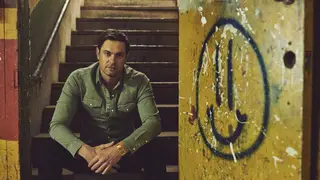 Long before Matt Stell broke into the country music space, he was a colligate athlete with plans on attending Harvard University medical school. His God-given gift of music naturally set Stell on an alternative path, which soon led him to become a country radio success. 
The Arkansas native is one of only eight new musicians to have back-to-back No.1 hits within the last six years. As his current single "Man Made" dominates the airwaves and climbs the streaming charts – he released "One Of Us," a tribute track that he believes will change the trajectory of his career. 
"We like to raise some hell and do it in the right way," Stell exclusively told CMT. "That's sort of the guiding line. For instance, 'Does the song move the needle for us?' And this one definitely does," he said. 
"One Of Us" was written by James Barker, Travis Wood, Gavin Slate, and critically acclaimed songsmith Jim McCormick. Sonically, the upbeat demo captured Stell's undivided attention, but the relatable lyrics about small-town living and hometown heroes encouraged him to cut the track. When seeking new material, Stell mentioned that he has a mental checklist and "One Of Us" crossed off every box. 
"My management passed the song onto me. We were looking for mainstream music, which is this high-energy country music that rocks pretty hard. This checks all those boxes," he explained. "I heard it, and I thought it was a smash immediately. We went into the studio, recorded, and teased it on social media." 
The way Stell placed his trust in his label for "One Of Us," is similar to how he approaches radio and cultivates a strategy. His gut feeling points him in the right direction. 
"My process has always been to write or to cut songs that I believe in. I put them in a pile and see what kind of raises its hand," said Stell. "I let the folks from the label or my management have a big say in what goes to radio, because that's their expertise – what music works best and where. That's the way we hit the ground running and how we have done it. It's worked so far. It doesn't feel real sometimes," he added while reflecting on his achievements. 
The second verse of "One Of Us" resonated with the hitmaker, as it touches upon a devastating accident. 
"One of us been gone since he got called home | Drove right of the road in his Chevy | Any one of us could have been shotgun | So we drink one in his memory," he sings with emotion.
Although the melody undeniably compliments Stell's impressive vocal range, the underlying message pushed him to co-produce the song alongside Ash Bowers and make it his own. 
 "I hadn't really talked about this very much, but the thing about that song that really makes it special to me, is the second verse. It talks about a guy running off the road in his truck and not making it," he confided in CMT. "That happened to one of my best friends, right out of college. It's a way that we get to celebrate the ones that have gone on before us." 
He continued, "I get to think about my buddy John Honeycut. He was one of the best guys I knew, and he fell asleep on the way home from work. It's super sad, but I get to think about all the good times. So, that's my favorite part of the song." 
"One Of Us" strikes a balance as it's a feel-good anthem that also has the ability to tug at heartstrings. Stell believes the heavy subject matter intertwined with the vibrant instrumentals is the recipe for the "best songs." Whether listeners blast the guitar-stacked track in their truck or throughout the football season, he hopes they get lost in the storyline. 
"I want it to feel like it's speaking to them," the chart-topping artist pointed out. "I feel like that song is talking about many different people. 'One Of Us' is talking about life, and that's what country music is best at, being real, and that song is very very real."
"One Of Us" is one of many tracks he will be playing from his impressive catalog on the Man Made Tour. The country crooner is slated to kick off the highly anticipated run tonight, Sept. 30  with breakout stars George Birge and Kyle Clark. 
Ticket-holders are encouraged to buckle up, because he plans on bringing the heat to his high-energy live shows. 
"I'm looking forward to getting in those spaces, packing them out, and tearing it up," he uttered full of excitement. "My band and I have such a great time on stage, and we just feel like we kind of have set the bar high." 
The 17-city trek is expected to wrap on Dec. 3 in Medina, OH, and will feature genre-bending artist Chase Matthew on select dates. Tickets are available for purchase, here. 
MATT STELL – "MAN MADE TOUR 2022"
9/30 - Tuscaloosa, AL – Druid City Music Hall
10/1 - Baton Rouge, LA - The Basin Music Hall
10/7 - San Bernardino, CA- The Brandin' Iron
10/13 - Portland, OR- Poderosa Lounge & Grill
10/14 - Medford, OR- The Rocky Tonk Saloon
11/3 - Foxborough, MA- Six String
11/4 - Binghamton, NY – Touch of Texas
11/5 - Asbury Park, NJ- Asbury Lanes
11/10 - Fort Myers, FL- The Ranch
11/11 - Tampa, FL – Dallas Bull
11/12 - Sanford, FL – Tuffy's
11/16 - Wantagh, NY – Mulcahy's
11/17 - Columbus, OH- The Bluestone
11/18 - Harrisburg, PA- Harrisburg Midtown Arts Center
12/1 - Warrendale, PA – Jergel's
12/2 -Hobart, IN- Hobart Art Theater
12/3 - Medina, OH- Thirsty Cowboys