Dan + Shay Join "The Voice" As Coaches
Dan + Shay will join fellow country singer Reba McEntire along with John Legend and Chance the Rapper as judges for Season 25.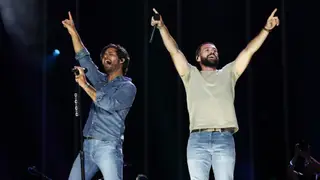 There are about to be as many country music coaches on "The Voice" as there are coaches from all other genres combined.
Thursday, NBC revealed that Grammy-winning country duo Dan + Shay would sit in the show's famous spinning chairs in Season 25. Dan + Shay's presence as coaches marks the first time a duo has coached on the show.
Dan + Shay will join fellow country singer Reba McEntire along with John Legend and Chance the Rapper as judges.
The "Tequila" singers aren't strangers to fans of "The Voice." Dan Smyers and Shay Mooney were Blake Shelton's battle advisors in season 20. But season 25, which airs in the spring of 2024, marks the first time they'll have their own team to advise.
"SO EXCITED TO ANNOUNCE THAT WE WILL BE JOINING @nbcthevoice IN 2024 AS THE FIRST COACHING DUO! 🤠🤠," the duo posted on Instagram. 
McEntire will return for her second season as a coach on the show – a role she took over for Blake Shelton, who stepped away at the end of season 23.
"The country lane — I'm taking over for Blake, so I'm gonna represent country music," McEntire told People. "[He's got] big boots. I don't know what size those boots are, but they're big, so I'm gonna really work hard to make him proud."
Season 24 of "The Voice" – along with McEntire's coaching prowess – will debut this fall. She'll sit alongside coaches John Legend, Gwen Stefani and Niall Horan.
McEntire will release her upcoming lifestyle book "Not That Fancy: Simple Lessons on Living, Loving, Eating, and Dusting Off Your Boots" on October 10. Dan + Shay are completing work on a new album now.
"We're nearing the end of this yet-to-be-announced album," Dan Smyers told Audacy's Katie & Company. "It's been a few years in the works. We don't quite have all the details yet. We're ironing them out as we go, but it's definitely our best yet."
Dan + Shay's current hit single "You" is an up-tempo love song from their "Good Things" album released in 2021. However, Dan + Shay released their first single from the album on Oct. 4, 2019 – "10,000 Hours." From that perspective, it's been nearly four years since Dan + Shay has had a new collection to work from.
"We're so proud of it, and I'm just so excited to get this out there to the people," Smyers said. "We're going to have new music by the end of the year, and I'm fired up for it."