The 23rd Annual Song Contest - Sponsored by NSAI, The Bluebird and CMT - Kicks Off Today
Songwriters can win up to $5,000 cash, a contract with Anthem Entertainment, a Taylor Guitar, professional mentoring sessions and more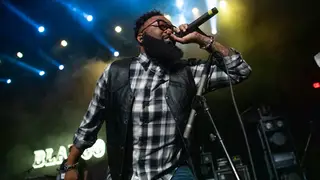 The Nashville Songwriters Association International (NSAI) popularized the phrase, "It all begins with a song." Now the organization and a few sponsors, including The Bluebird Cafe and CMT, are turning to the public for inspiration. Because while everything that might begin with a song – songs start with the people who write them.
NSAI, The Bluebird and CMT revealed the 23rd Annual Song Contest. Starting at noon on Oct.1, songwriters can submit their songs/lyrics to the contest to compete to win up to $5,000 cash, a one-year single-song contract with Anthem Entertainment, an American Dream® Series Taylor Guitar, tickets to the 2023 CMT Music Awards, a Bose L1 Pro8 Portable System, a 3-day trip to Nashville, and one of two professional mentoring sessions.
The winner of the Song Category will receive a one-on-one mentoring session with the Grammy-nominated Blanco Brown and the Lyric Category winner will receive the chance to learn from hit songwriter, artist, and producer Nicolle Galyon.
The contest is open worldwide and to every genre of music. Industry professionals will judge the songs through multiple phases. As many as 22 entries will place in the contest. The live final judging phase for the Song Category will feature the Top 10 Finalists' entries vying for the Grand Prize in February 2023.
In February of 2023, the top finalists for the Song Category will be scored during a live judging event where a panel of music industry professionals will score each submission from 1-10, with the highest combined score receiving the Grand Prize. The event will premier online at www.nashvillesongwriters.com.
Entries can be submitted 12 p.m. central Oct. 1 -  5 p.m. central Nov. 30. Songs can be submitted online at www.nsaisongcontest.com, or they can be mailed to the NSAI office (NSAI--ATTN: Song Contest, 1710 Roy Acuff Place, Nashville, TN 37203). All entries mailed in must include the submission form, entry fee, printed lyric sheet, and one audio CD (unless a Lyric-Only entry). Entry fees are $35 per song or lyric entry for current NSAI members and $45 per song or lyric entry for non-NSAI members. There is no limit to the number of songs or lyrics songwriters can submit.
Partners: Anthem Entertainment, ASCAP, The Bluebird Cafe, BMI, BOSE, CMT, SESAC, Southwest Airlines®, Taylor Guitars, Visit Music City, and We Make Tapes & Discs.