Toby Keith Performs For The First Time Since Cancer Diagnosis
Toby Keith delivered his 2003 smash hit "I Love This Bar" during his surprise set – WATCH!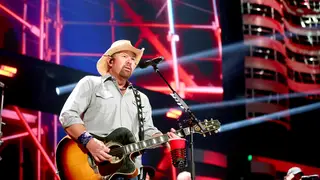 After a short hiatus due to his cancer diagnosis, Toby Keith has returned to the stage. 
The country icon made an appearance at Jeff Ruby's Steakhouse in Lexington, Kentucky, over the weekend (Nov. 4) to perform an impromptu set. The "Beer For My Horses" singer was visiting the southern town for the 2022 Breeder's World Cup Championship event at Keeneland Race Course. 
The restaurant owner, Jeff Ruby, documented the hour-long set and turned to social media to share a string of videos. Keith performed alongside the house band and delivered the 2003  hit "I Love This Bar," Lynyrd Skynard's "Sweet Home Alabama," and more. Deep into the performance, Ruby jumped on stage with the hitmaker to snap a photograph. 
"Grateful for my good friend @tobykeith!" wrote Ruby on Twitter. "Rocking our Lexington stage after a year of kicking cancer's a**!" 
"I've been knowing this guy for a long, long time. I just told him back there, I just came from London and France for 14 days to get back to Breeders' Cup," said Keith ahead of the duet. "I just ate the finest (expletive) meal I've had in 14 days. Jeff Ruby's has the baddest a—steak in the freaking planet, y'all," he added. 
The surprise set marks Keith's first show since June,  when he declared his battle with stomach cancer. This time last year, the singer was enduring chemotherapy, radiation, and surgical treatments. 
"Last fall, I was diagnosed with stomach cancer. I've spent the last 6 months receiving chemo, radiation, and surgery," Keith previously shared. "So far, so good. I need time to breathe, recover, and relax." 
Following the announcement, Keith stepped away from the spotlight to prioritize his health and to spend time with loved ones. The vocalist canceled his remaining shows in 2022, including his 33rd annual Ribfest in Wheaton, Illinois. 
The Toby Keith Foundation was honored at the SabesWings "Strike Out" benefit in late September. The vocalist was set to perform, but pulled out last-minute. 
"He is still going through recovery, and it is a tough week," declared SabesWings spokesperson Matt Heien. 
Keith will be honored tonight, Tuesday (Nov. 8), at the 2022 BMI Awards. The platinum-selling artist is slated to receive the Icon Award, which recognizes his songwriting achievements. In 2021, Keith was inducted into Nashville's Songwriters Hall of Fame and was honored with the National Medal of Arts.