CMT Roundup: New Music From Luke Grimes, Lauren Alaina, Larry Fleet and More
Hear CMT's new music playlist CMT Roundup in this story.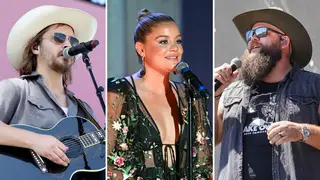 Lauren Alaina, Ashley McBryde, Luke Grimes and more are kicking off June – and the summer – with new music. McBryde is ripping hearts out with her raw, emotional, autobiographical ballad "Learned To Lie." Alaina is showcasing her new sound and her sass in her Joey Moi-produced "A Walk In The Bar" and "Yellowstone" actor Luke Grimes brings a western-outlaw vibe to "Playin' On The Tracks."
Hear these songs and more on CMT's The Roundup Playlist.
Lauren Alaina, "A Walk In The Bar": "'A Walk In The Bar' is sassy and shows off my personality perfectly," Alaina said. "It's a getting over someone's song. It's a play on words, like, 'A walk in the park.' Getting over you was just a walk in the bar.' The hook says, 'Who says heartbreak has got to be hard? Getting over you is just a walk in the bar. It sounds like a caption I would write on Instagram."
Randy Rogers and Wade Bowen, "We Ain't The Only Ones": "This is a tribute to our lifestyle. Our love for music, but mostly life on the road," Bowen shared. "Cheers to all who walked this path before us, and cheers to all our friends on this journey with us now."
Rogers added: "It's time to fill up the ice chest! Summertime is upon us. This song is for all the crazy dreamers like us chasing that neon rainbow."
Larry Fleet, "Layaway": "When times get tough, the tough get to workin' hard where I'm from," Fleet said. "I worked construction for years before this dream started to take shape for me, and I know how much it takes sometimes to keep things afloat. Sacrificing for your family is one of the most admirable things in the world to me, something I've seen my family and friends do for each other all my life. I wanted to pay tribute to that effort and dedication and write one for them."
Ashley McBryde, "Learned to Lie": "'Learned to Lie' was a hard one; I wrote it with Sean McConnell and Nicolette Hayford," McBryde said. "After it was written, I called my mom to let her know that I had told a little bit more of our story as a family. I said, 'It's going to be hard to hear, but none of it is untrue.'"
Luke Grimes, "Playin' On The Tracks": "This song was my first co-write with the very talented Bent Cobb, and I realized pretty quickly that he was going to be a big part of my musical journey," said Grimes. "With 'Playin' On The Tracks,' it started with a mood. We were trying to capture the outlaw spirit of a sort of rambler. Once we got going, it sort of fell out. I love the shoot-from-the-hip attitude of this song."
Emily Ann Roberts, "Infinity": "​​This was the first time Stephanie and I were writing one on one. It was just us, and right away, we started with girl talk. She asked me if I had a boyfriend. I said yes. She asked, 'Well, is he the one?' When I told her he was, she wanted to know how I knew. I said that forever doesn't seem like long enough to love him. And from there, this song came to us. I sang it for my sister's first dance at her wedding, then at mine, the string quartet played this for me to walk down the aisle. My husband is so humble, but he was definitely the inspiration. We met in Spanish class in high school, and we've been together ever since. He is such a steady force in my life. He truly is my better half and my best friend. When you find your person, forever just doesn't feel like long enough."