Russell Dickerson Opens Up About Touring With Tim McGraw And New Music: "The Album Is Done"
Russell Dickerson has a jaw-dropping message for Tim McGraw and "1883" fans.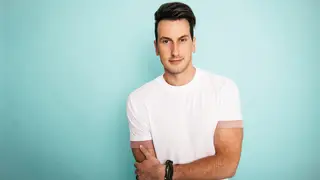 Russell Dickerson is an unstoppable force to be reckoned with, as he is slated to end 2022 with a bang. 
The "Blue Tacoma" singer recently wrapped up his nationwide run with country sensation Tim McGraw and is now gearing up for his 10-stop headlining trek. Ahead of his high-energy set at Windy City Smokeout, the chart-topping artist sipped on a chilled tequila soda while discussing his flourishing music career with CMT. 
Dickerson was expected to join McGraw on his Here on Earth Tour in 2020, until the Coronavirus pandemic brought live music to a sudden halt. The Tennessee native persevered forward and channeled his energy into other projects, thinking the gig was ancient history…till his phone rang. 
"My God, when we got the call, it was unexpected. I thought it [McGraw's tour] was just done," Dickerson admitted. "I thought there was no chance, then BOOM, Tim McGraw. I was like, 'one hundred percent. I'll cancel my entire life.'" 
Dickerson served as direct support for McGraw and kicked off the highly anticipated tour in late April and wrapped in early June. The singer said the experience was "surreal," and their friendship blossomed. Dickerson explained that if an opener wants to spend time with McGraw, they should lace up their running shoes and partake in his parking lot bootcamp.  
"He wakes up, does cardio, stretches, and then a few hours later does another. Then we do our hour-long group workout. That's his third workout of the day - it's next level," he shared while laughing. "We had a lot of media and radio stuff we had to do. He would be like, 'where the hell were you yesterday…busy?' and I was like, 'dude I'm trying to build my career here. You're just flying off into the sunset and working out eight hours a day." 
Dickerson continued, "If you want to hang out with Tim McGraw, you got to work out with him. He doesn't like sitting around. He's always doing something. That's a little knowledge for the future openers."
The 55-year-old hitmaker swears by his fitness program, to the extent that he brings along a gym on wheels. The heavy gear is stored away in a trailer sponsored by Butcher Box. Dickerson and McGraw pull out the weighted ropes, sleds, tires, and even sledgehammers to maintain their healthy lifestyle and lean physique. 
Although Dickerson jumped on board with the rigorous regimen, the singer-songwriter confessed that he can't get into the "Yellowstone" sequel  "1883." The Paramount+ series stars McGraw (James Dutton) and Faith Hill (Margaret Dutton). The action-packed show follows the family as they make the treacherous journey from Texas to Montana. McGraw and Hill's characters are the great-grandparents of Kevin Costner's cantankerous John Dutton, who owns the largest cattle ranch in the United States. 
Despite their tight-knit relationship and hours spent together, Dickerson said that McGraw still believes he watched the entire fan-favorite television show. 
"Honestly, I watched the first five minutes of '1883,' and it was so intense," Dickerson said before addressing the country legend turned Hollywood star. "Hi Tim…It's me. I didn't watch '1883,' I'm sorry," Dickerson declared. 
While tirelessly keeping up with McGraw and his shenanigans, Dickerson was honing in on his third studio album. The country mainstay believes that the forthcoming record will change the trajectory of his artistry and will be his best collection to date. 
"I like to speak positivity, and I don't speak from a cocky place, but this is the album that will change the game," Dickerson exclusively told CMT in confidence. "Every single song, I just can't stop listening to. I'm just so happy and proud of each one." 
The country crooner did not confirm an official release date, but said that the 15-song tracklist is complete and will arrive before the "end of the year." 
"The album is done and finalized," he shared. "My manager thinks it should be a self-titled album. I don't know what it will be called yet, but that's pretty badass." 
Dickerson is looking forward to giving fans a sneak peek into the collection with the latest single, "I Remember" on the She Likes It Tour. The headlining trek takes the name of his successful collaboration with pop star Jake Scott. The world-renowned performer called in Nashville newcomer Drew Green to join in on the fun. The must-see show will conclude in Denver, Colorado, at the Fillmore Auditorium. 
The main goal behind the winter tour is to bring individuals together with the power of music. 
"We all got struggles to deal with. I feel like my spot on this earth is to bring happiness, joy, and light with my music," Dickerson stressed. "My number one passion about this whole thing is the live shows. I want everybody to go to a different place. I want the show to be so good that it feels like a distraction."