RECAP: CMT Honors 2023 Next Women of Country and the Program's 10th Anniversary with Unforgettable Night of Music
A special "CMT Hot 20 Countdown" featuring the NWOC celebration will air Saturday, Feb. 11 at 8a/7c with an encore on Sunday, Feb. 12 at 9a/8c on CMT.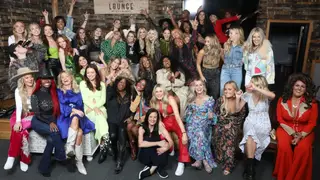 CMT celebrated the 10th anniversary of its "CMT NEXT WOMEN OF COUNTRY" franchise on Tuesday night with an event at City Winery Nashville announcing its 2023 class of artists. With 16 artists in its newest class – it's the program's largest group of honorees to date.
Past Next Women of Country members, including Mickey Guyton, Ingrid Andress, Maddie & Tae and Brittney Spencer were on hand along with the night's hosts, Cody Alan and Rissi Palmer, to celebrate the moment with a night of stories, camaraderie and songs.
The women in the class of 2023 are: Alana Springsteen, Angie K, Ashley Cooke, Avery Anna, Carter Faith, Catie Offerman, Georgia Webster, Julie Williams, Kasey Tyndall, Kimberly Kelly, Mackenzie Carpenter, MaRynn Taylor, Megan Moroney, O.N.E The Duo, Pillbox Patti and Roberta Lea.
"We started (NWOC) 10 years ago because we started seeing a lack of female representation (in country music)," Leslie Fram, S.V.P. of Music & Talent, C.M.T., said from the stage. "We're like, 'How can we use our platform?' We started in 2013, and then two years later, we started a tour. Outside of more women getting signed to record labels and publishing deals, it's about women supporting women. It used to be thought there's only one slot, and we proved that's not right because of how (female artists) support each other."
Before the show, the honorees and their teams gathered for a lavish mixer with an open bar, light tapas, lots of lively conversation and photo booth. More than 100 artists and music industry executives packed into an upstairs room at City Winery Nashville to talk shop and get to know each other.
"I don't know who let me in, but I'm here," said Taylor, who will sing the National Anthem at the Buffalo Bills vs Cincinnati Bengals playoff game this weekend. "I'm just so honored, and I'm sure everyone is going to say that, but I really am. Especially with the women who came before me in this class, it's inspiring, and I feel in awe."
Carpenter, dressed in a fur-trimmed jacket that reminded her of Dolly Parton's coat of many colors, called the opportunity to be part of the franchise "awesome."
"I'm sure that by the end of the night, all of these girls will be my new best friends," she said. "It's really cool to look to the left and look to the right and see the people that you are coming up with and writing songs with and put your arms around them and walk forward."
Kelly already had a friend in the room. Leaning in close to be heard over the chatter, Kelly explained that her sister Kristen Kelly was part of the first group of women to enter the franchise 10 years ago. Kristen came out to enjoy the evening with her younger sibling, who used to serve as her background vocalist. Kimberly admitted that it was often hard to watch Kristen be celebrated in the spotlight she wanted to stand in. However, the experience made her current opportunities that much sweeter.
"I have watched several groups get added and always thought, 'Oh, I want to be in it. Now is my time,'" Kimberly Kelly said. "But this is the right time—the 10th year. There's something about when an organization hits a milestone like that. I'm about to go on a radio tour that makes me think it works out the way it should. To be a sibling and being so close to something but still so far away, there's so many lessons to be learned in that. It's so sweet when your time finally comes."
The Kelly sisters weren't the only family in the room. O.N.E. The Duo is comprised of mother/daughter pair Tekitha Washington and Prana Supreme Diggs. Washington is a singer formerly associated with Wu Tang Clan.
"It's an honor and such a privilege that they want to consider us when we're really just breaking ground right now," Washington said. "We're doing our best to show why we're really here, what we're here to do, what we're trying to give to the industry and give to humanity. That's what the music is about -- the human connection. Having CMT support us in that effort is mind-blowing. It's monumental. It's something I will never forget. I've been in the music business for 28 years, and I've had some accomplishments in hip hop, but it just doesn't compare to what we're experiencing now."
Throughout the night, the members of the 2023 class of inductees split into small groups and took the stage with senior class members who introduced them to the audience. Each singer was allowed one song and the opportunity to introduce themselves to the audience. Moroney told fans she went to the University of Georgia to be an accountant but that someone she "ended up here."
"I never could have dreamed this big," said Moroney, whose song "Tennessee Orange" sparked a frenzy among Nashville record label executives who wanted to sign her.
Angie K told fans she was a car mechanic before moving to Nashville and then sang her song about red dirt on Mars.
"I play country music with a little bit of a twist," she said before the show. "The most beautiful thing that I've found in Nashville is how kind people are in turning around and saying, 'Let me help you up.' My whole career has been like that since I moved here."
K, who appeared on The Voice, said she felt overwhelmed when she saw the email about being part of C.M.T.'s Next Women of Country come into her inbox. Then she took a deep breath.
"I was reminded that this thing I'm doing is so much bigger than the song I make or who I am," she said. "We're part of a culture that influences the next generation. We have the responsibility to light that candle now for everyone underneath us. To know C.M.T. thought I was worthy of that, not only was it a humbling experience, it was a calming and grounding experience."
A special episode of "CMT Hot 20 Countdown" featuring the NWOC celebration is slated to air Saturday, February 11th at 8a/7c with an encore on Sunday, February 12th at 9a/8c on CMT.