Dustin Lynch Reveals Video Of First Solo Flight As A Pilot: "Had Myself A Weekend"
Dustin Lynch explains why he decided to get his pilot license, and the reason, may surprise you!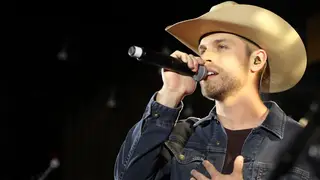 Dustin Lynch is on cloud nine because he is officially a solo pilot. 
The "Party Mode" singer took to TikTok on Monday (Aug. 15) evening to share a video of his eventful weekend. The short clip featured a trip to his farm, tearing through the mud on ATVs, swimming in a local watering hole, but most importantly, controlling the cockpit of an aircraft. 
With the 2021 Riley Green duet  "Huntin' Land" blasting in the background of the video, Lynch filmed himself behind the steering wheel of a tiny plane. Lynch gave fans a bird-eye view, capturing the scenic landscapes from above and displaying his polished jet in the hanger.  
The solo flight did not go unnoticed by country music fans, as several flooded the comments with congratulatory messages. 
"You're flying a plane✈️  solo! So happy for you," gushed a follower. "Congratulations on the first solo ride," said another. 
Following the safe landing, the hitmaker jumped on Twitter to share the accomplishment. 
"Set a goal, and when you get there…man, it always feels good! First solo flight today," he wrote alongside a pilot emoji. 
The vocalist has been preparing for the independent voyage for quite some time, as he gave Bobby Bones an update on his progress back in February. At the time, Lynch was still training with his private instructor and was only a few lessons away from going up by himself. 
"I am at a very scary moment, because my instructor told me two days ago that we're one lesson away from jumping out and beginning solo," Lynch previously said. "I think he's probably going to do a couple landings with me and then open the door and say, 'alright you got this, go for it.' That's when it's going to get real," he pointed out. 
He continued to mention that he picked up the pastime when he wasn't on the road touring. He explained that becoming a licensed aviator would provide him with the opportunity to access his remote farms. 
"It's been fun! What really pushed me was, we weren't touring. So, it was like, ' let's pick up a new hobby.' I have some farms that are hard to get to – driving or flying commercially," he said. 
The country crooner has no fear of flying. In fact, he enjoys turbulence and compares it to an amusement park ride. 
"When you're in a smaller plane, you are getting tossed around. It's fun for me. It's like a roller coaster," he said with a smile about the airplane with a parachute. 
In case of an emergency,  Lynch knows the protocol and exactly what to do. He clarified that he had to undergo multiple intensive safety simulations to prepare for the unimaginable. Lynch is not the only country artist who has their pilot certification, as Tim McGraw and Dierks Bentley also have experience up in the air. 
When Lynch isn't performing on the second leg of his Party Mode Tour, he will be catching flights.