Parker McCollum Opens Up About His Breakout Success And Plans For 2023
Corey Kent, Catie Offerman, and Larry Fleet will join Parker McCollum on his spring headlining tour.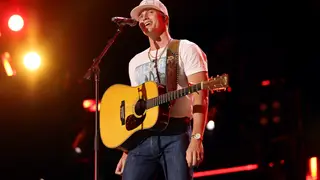 The breakout star recently (Nov. 9) caught up with Taste of Country's Adison Haager to reflect on his success, what he has quickly learned about the 10-year town and to reveal plans for 2023.
In the summer of 2021, the country crooner released his major label debut album with MCA. The 10-song collection includes "Why Indiana," "Wait Outside," "Rest Of My Life," and more. The critically acclaimed record followed his "Hollywood Gold," which became one of the top-selling EPs of 2020. McCollum scored his first No. 1 with his double-platinum single "Pretty Heart" and gold-certified hit "To Be Loved By You." 
The fast-rising artist made his Grand Ole Opry debut, performed for a sold-out crowd at RODEOHOUSTON, won his first CMT "Breakthrough Video of the Year" Award,  ACM Award, and is currently in the running for "New Artists of The Year" at the 2022 CMA Awards. While embracing his new reality, he has learned how to navigate the country music scene. 
"You just gain so much experience – and [I] made so many mistakes this year and years past. I've always tried to really learn, and making mistakes is fine as long as you learn from them and grow from them," explained McCollum. "Our machine is so well-oiled on the road that we kind off subconsciously learn from those mistakes and fix things. Every year it gets better and better and bigger and bigger. I don't think next year will be any different," he added. 
Most recently, the country crooner recognized that taking care of his physical and mental health is the key to avoiding burnout. 
"I've learned to say no a little more this year and just take care of my voice and what was best for me and the guys, versus just always trying to do more than anybody else and tour more than anybody else," he said. "I think we've done that enough to where next year we'll play a few less shows, and I think the quality of product of stage every night will be a lot better." 
Despite the constant grind and sleepless nights, he believes 2022 was his best year yet. 
"It's easily the greatest year that I've strung together thus far. We've had some really good ones – some that kind of blew me away – doing stuff that I always kind of thought about doing and wondered if we had what it took to get that level, and then this year, it was like we surpassed all of that," he told the publication. "It's crazy. Very grateful." 
On the heels of his successful run with country sensation Thomas Rhett, McCollum announced his headlining 2023 Spring Tour. Chart-topping artists Corey Kent, Catie Offerman, and Larry Fleet are slated to serve as direct support. 
"Words cannot describe what 2022 has been for me," shared McCollum. "So many lifetime goals reached. I cannot wait to see what 2023 has in store for us. So stoked to kick it off in the spring with a big tour."  
The highly-anticipated tour will kick off in early February in Columbus, Ohio, and wrap on April 14. For upcoming appearances and tickets, visit parkermccollum.com.