Reba McEntire Hints At "Reba" Reboot But Confirms That Fans Will Have To Wait
Reba McEntire gives an unfortunate update on the "Reba" reboot and talks "Big Sky: Deadly Trails," which will premiere tonight at 9 p.m. CT on ABC.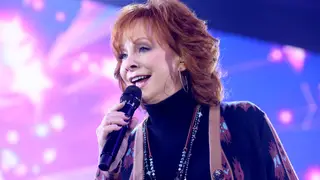 The Country Hall of Famer appeared on "Good Morning America" Tuesday, Sept. 20, to discuss her  role in the third season of ABC's "Big Sky" and to update fans on the highly anticipated "Reba" reboot.  
The Emmy-nominated show was broadcasted on the WB and then the CW for six seasons, from 2001 to 2007. The network TV show became a cultural phenomenon, as it tells a story about a blended family. The singer turned successful Hollywood actress plays a single mother of three who is navigating suburban life in Houston, Texas. In mid-July, McEntire told "The Bobby Bones Show" that the cast was pushing for a "Reba" reboot. 
"We've really been trying hard to do a reboot of the Reba show. I really want to work with the people that I got to work with during that six and a half years. It was fun, the cast, the crew everybody we got to work with and play with, they were wonderful people," the hitmaker recalled. "We wanted to get back together like a reunion and have fun. So, hopefully that will happen one day." 
When "GMA" anchor Michael Strahan asked about the filming process, he did not receive the answer he wanted to hear. McEntire confirmed that the cast and crew pumped their brakes on a reunion, and fans will have to wait a little longer for the family to get back together.  
"Unfortunately not. I thought we were getting really close," shared McEntire. "But nope. Not gonna be able to do it for right now. But we'll keep seeing if we can get in there somewhere," she added. 
Until the "I'm A Survivor" singer can return as her bubbly character Reba Hart, fans can catch her as the villain in the upcoming season of "Big Sky: Deadly Trails." McEntire [Sunny Brick] and real-life boyfriend Rex Linn [Buck Barnes]  serve as a shady couple in the action-packed series, where they are murder suspects and owners of Sunny Day Excursions. 
McEntire told "GMA" that she pulled from world-renowned thespians and movies to prepare for her mysterious role. 
"Betty Davis, Joan Crawford, 'Hush…Hush, Sweet Charlotte,' and 'Whatever Happened to Baby Jane.' Those kind of movies. As a matter of fact, the other day, we did this one scene. I looked over at my boyfriend, who plays my husband on the show, Rex Linn and I said, 'Wasn't that Betty Davis or what?'" she recalled while laughing. 
This is far from the first time the two lovebirds performed together on the big screen.
"We been working together since '91. We were in "The Gambler" movie with Kenny Rogers, and then we did a movie for Lifetime this summer in Canada. It's called "The Hammer," and we were kind of love interests. Now we get to play husband and wife – Buck and Sunny." 
McEntire says that she reads through her scrips multiple times before stepping foot on set and practices with Linn at home. 
"He makes me rehearse so much. By the time we get on the set, I know my lines, your lines, your lines…but it's fun," she pointed out with a beaming smile. 
"Big Sky: Deadly Trails" is set to premiere tonight, Sept. 21, on ABC. Episodes are set to air on Wednesdays at 10 p.m. ET/ 9 p.m. CT.