Country Music Stars' Top 10 Best Halloween Costumes
See what Luke Bryan, Carrie Underwood, Thomas Rhett, Miranda Lambert and more dresses up as this Halloween.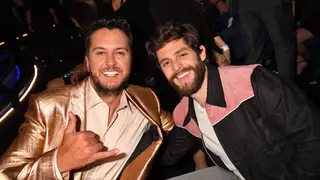 There were a few Dolly Partons, the "Top Gun" crew, some scary clowns, a whole lot of farm animals and even more "Star Wars" characters. It's safe to say that no one does Halloween like country music. How many other days of the year can Thomas Rhett come to your door for a Tootsie pop and go unnoticed?
Here are CMT's Top 10 favorite Halloween costumes. Who is your No. 1?
View this post on Instagram
View this post on Instagram
View this post on Instagram
View this post on Instagram
View this post on Instagram
View this post on Instagram
View this post on Instagram
View this post on Instagram
View this post on Instagram
View this post on Instagram