CMT Roundup: Brad Paisley, Ashley McBryde, Luke Combs, Caitlyn Smith and More Drop New Songs
Hear CMT's Roundup playlist, our collection of this week's new and best country songs.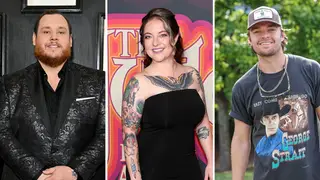 It's a weekend of new music from country music's most respected names, including Brad Paisley, Ashley McBryde, Luke Combs, Caitlyn Smith, Tenille Townes and more. Fans can also catch fresh songs from Tyler Farr, Larry Fleet, Canaan Cox and Conner Smith. This is what the artists have to say about their new tracks in their words.
Check out CMT's full playlist of the week's new country music. 
Brad Paisley, "Same Here,": "Same Here" with President Zelenskyy is one of the pieces of this album that represents so much a part of my journey from West Virginia to now. One of the prevailing themes on this album is freedom. That's something I truly believe in, and think is our most precious gift as Americans. The song is grounded in observing life in the United States, then to people from other countries who speak different languages and to one across the ocean that's at war. We start to realize how similar we all are."  
Ashley McBryde, "Light On in the Kitchen,": "I'm noticing now how big a difference such seemingly small comforts have made in my life," McBryde says. "Things as simple as "sure honey" from a voice I need to hear it from, or just walking into the kitchen for a drink in the middle of the night. How comforting that warm glow has always been... Leave a light on y'all. Big hugs."
Luke Combs, "Joe,": "There have been some folks in my family that have struggled with alcoholism and addiction through the years, I've got buddies who live a sober lifestyle, and I'm sure y'all know someone who has struggled with these types of things, or maybe you, yourself do.," Combs said. "This song is really important to me for that reason. Our genre has so many songs about drinking and partying, hell, I'm probably one of the worst culprits of it. There's nothing wrong with that I don't think, but sometimes I wonder what someone in the crowd who doesn't drink or struggles with addiction is thinking or feeling when there's thousands of people around them screaming 'Beer Never Broke My Heart' or '1, 2 Many.' I've always wanted a song for those people to have for themselves. To have a song they can sing at the top of their lungs and feel like they're not forgotten. When Erik Dylan sent me the work tape of this a few years back, I knew I wanted to be a part of it. So, if you're reading this and this song speaks to you, I hope you love it. This one's for you."
Tenille Townes with Bryan Adams, "The Thing That Wrecks You": "I was recording a song for a Hallmark Movie in Vancouver last summer and found myself completely enamored by the recording space we were in," remembers Townes. "Later in the day, I found out that it was Bryan Adams' Warehouse Studio, and I actually ran into Bryan himself on the staircase on my way out. We talked for just a few minutes, and I was so happy to meet him because his path as a fellow Canadian has been incredibly inspiring to me, with a collection of songs that have impacted the world in such a huge way. Later that night, I thought about 'The Thing That Wrecks You,' a song I'd written a while before with Kate York and Daniel Tashian, and how the spirit of that song made me think about his voice," she continues. "I decided to go out on a limb and sent him the song along with a letter asking if he might be up for singing on it with me. Fast forward to now, where not only have I gotten to sing with a hero of mine, but I have also found a mentor and friend through this whole adventure. This song is evidence to me that putting a wild thought out in the atmosphere and believing in it is a powerful thing." 
Tyler Farr, "Country As Shit": "Man, there's nothing better than being in the studio and making a hit with your best friends," Farr says. "Jason [Aldean] is a freaking blast to be in the studio with and Jelly took the energy to new heights. We are so excited to share with y'all what it sounds like when our three worlds collide."
Warren Zeiders, "West Texas Weather,": "Hard to believe this was the 3rd song I had ever written in my life, but I'm super excited to share this tune with y'all from my forthcoming debut album."
Kassi Ashton, "Drive You Out Of My Mind:" "When nothing else works, I hit the gas," Ashton said. "I feel like I can breathe when the windows are down, and my main character soundtrack is turned up. Put this song at the top of your playlist the next time you need to get lost."
Canaan Cox, "Hate Me More": "The song itself pertains to being open and vulnerable so it was always in my plans to do a stripped-down version," Cox says. "I wanted to capture the real time emotion of those feelings which is why we decided to do a one take video from start to finish."
Caitlyn Smith, "The Great Pretender":  "'The Great Pretender' is one of the most vulnerable songs I've put into the world. It really touches on how I'm guilty of putting on a face and pretending everything is perfect, but the truth is…nobody can be perfect, and it's ok to be a mess sometimes," Smith says "I wrote this song after 'High & Low' was finished and turned in, but I knew it was too important to not have on the album, so I recorded it in my house alone. I feel like it's the perfect way to end the record."
Dom Flemons featuring Sam Bush, "Guess I'm Doing Fine": "The song's powerful lyrics about resilience in the face of insurmountable odds have resonated with me since I first heard it on CD 20 years ago," Flemons says of the Bob Dylan song. "After cutting 'Guess I'm Doing Fine,' I realized that it would be cool to add a fiddle part to pull out the strains of bluegrass that I found in the song's structure. I am so fortunate and grateful that my friend Sam Bush was available to add his fiddle to this lively track and bring some of that old-timey flavor to it." 
Conner Smith, "Creek Will Rise": "I've never been more excited for a song to come out. 'Creek Will Rise' has already taken my live show to a new level and feels like the start of the next chapter of my music."