Ashley McBryde Releases Chaotic Music Video For "Brenda Put Your Bra On" Featuring Caylee Hammack and Pillbox Patti
Ashley McBryde, Caylee Hammack, and Pillbox Patti help a fictional character get revenge on an ex-lover – WATCH!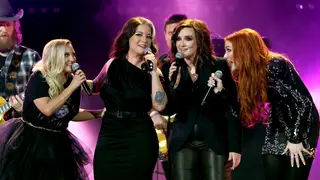 Ashley McBryde's critically acclaimed album "Lindeville" transports country music fans to a fictional town, and now she has brought her vision to new heights.
The singer-songwriter recently released a playful music video for "Brenda Put Your Bra On," a  track that features Caylee Hammack and Pillbox Patti. McBryde co-wrote the tongue-in-cheek song alongside Aaron Raitiere, Nicolette Hayford, Benjy Davis, Brandy Clark, and Connie Harrington.
The radio-ready song conveys a compelling narrative about friends intrigued by the commotion they hear in their neighborhood. One demands that "Brenda" should "put her bra on" to get the inside scoop or a closer look at the madness from their front porch.
"Brenda, put your bra on, there's trouble next door | Grab a pack of cigarettes and meet me on the porch | Marvin baby mama 'bout to catch him with a whore | Brenda, put your bra on," sings McBryde. "I knew she shouldn't let that bitch watch her baby | I used to work with her at the Krystal | She always got theme good shifts just 'cause she has good tits | And cut she shirts off at the middle," adds Patti.
The music video perfectly delivers the juicy storyline as it takes place at a rundown trailer park. ACM Award Winner and director Reid Long captures the three being nosey and helping a fictional character take revenge. As Patti takes drags off her cigarette, Hammack provides the protagonist with a baseball bat, and McBryde gives her gasoline.
The John Osborne-produced track displays several personalities, as each musician uses their signature sounds to represent different residents in the twisted town. Hammack's southern twang shines through, as Patti's sassy delivery compliments McBryde's wide vocal range. Their state-of-the-art acting brings the frantic clip to the next level and feeds off of the madness in the background, which includes an angry ex-boyfriend, police, and a female that knows her worth.
"As soon as we recorded this song, we knew we wanted to make a video for it," McBryde reflects. "It's the start of the action in 'Lindeville.' There were a lot of ways we could have shot the video, yet Reid had the idea to capture all the insanity and drama in one continuous take, which feels very in tune with the spirit of this entire project. How Lindeville of us!"
Come Feb.  15 and 16, the powerhouse artist will bring the well-rounded album to Nashville's legendary Ryman Auditorium. McBryde has invited her industry friends and long-time collaborators to play tracks from "Lindeville." Tickets are available for purchase, here.